Knowing how to make a wheelchair more comfortable is a key concern for most chair users. Not just for comfort's sake but also for health's sake. Sitting for many hours at a time puts pressure on all sorts of organs and muscles. Having the most comfortable wheelchair you can is better for joints, blood flow and general longevity.
In this article Blue Badge Insurance lists seven simple ways to make your wheelchair more comfortable for daily use. Here's what we've included: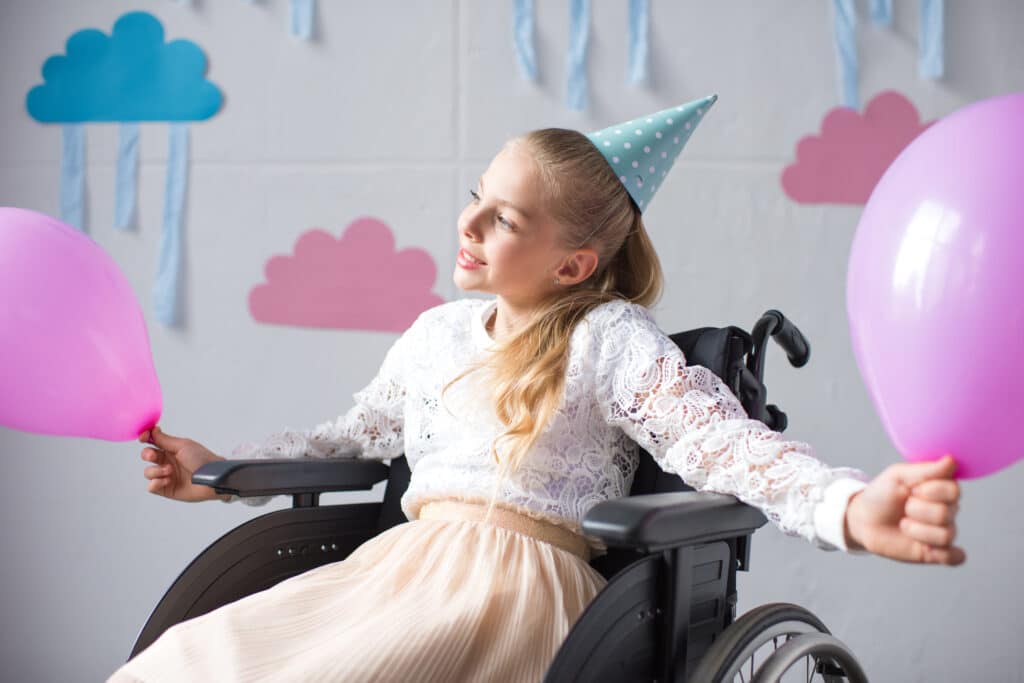 Start by getting the right wheelchair
To get the most comfort you can from a wheelchair it needs to be properly tailored to your body.
If you were to wear a belt that's too tight or shoes that are too small, you'd be uncomfortable and eventually start feeling unwell. The same applies to a wheelchair that's incorrectly suited to your frame, posture, weight and environment.
An OT is the key
Just like parents use their experience to guide their kids in helping them avoid shortfalls, an occupational therapist (OT) can do the same for you when you're buying or modifying a wheelchair. They've been through the process of finding the right mobility aids and done troubleshooting for different bodies, disabilities and environments.
An occupational therapist who specialises in wheelchair scripting is what you'll be looking for. Read about finding the ideal occupational therapist for the first time. Also read what to expect from an occupational therapist assessment on your way to finding a comfortable wheelchair.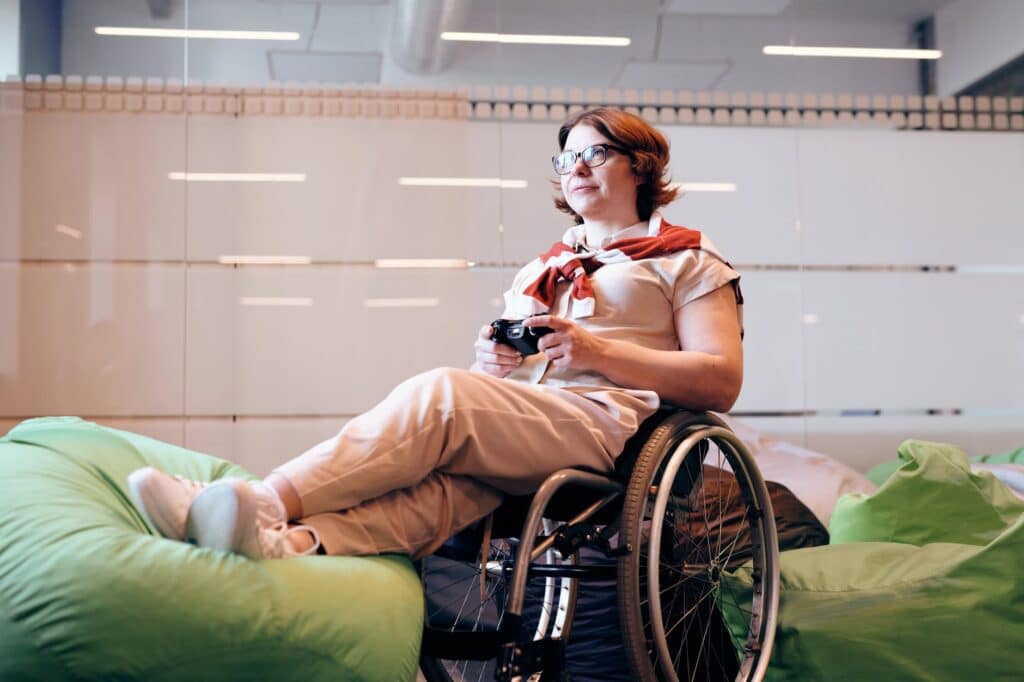 Make your wheelchair comfortable by adjusting your footrest
Sitting in a wheelchair unfortunately causes a person's core muscles in their abdomen to weaken. This also puts more stress on the back and spine. But there's another culprit… If your knees are too low or high this adds to the pressure on your back.
Ideally you need to have your knees slightly higher than your hips. This prevents you from bunching up in your chair and eases the pressure on your back. Adjust your footrest to ensure your knees aren't too high or low, but just above the height of your hips.
Support your lumbar spine
Your lumbar spine is the curved section at the space of your spine. It's made of five vertebrae that hold up the 12 chest vertebrae. Basically, your lumbar spine's position at the base of your back means it's under pressure and that's at its peak when you're sitting rather than lying down.
By reducing the lumbar strain your world could literally go from pain to gain. How? By using a lumbar support. Use a lumbar roll cushion that tucks into your lumbar spine neatly, giving added support.
Support your thoracic spine
Everyone slouches, but avoiding this is a good way to be more comfortable in your wheelchair. This is easier when you have physical support to guide your sitting posture to where you want it to be.
A great way to achieve this is using a three piece backrest that supports the thoracic part of your spine. This is the 12 vertebrae above your lumbar spine – essentially your upper and middle back. A three piece lateral thoracic support backrest holds you from the sides and back.
In other words this backrest gives you a 'hug' that holds you in place. When looking to buy one of these, find out what thickness and kinds of foams are used in the cushioning. Ideally you should be able to select the option that best suits your size and skin type (more on that below).
Get a wheelchair cushion for added comfort
In addition to spinal support from a backrest, an added seat cushion can do wonders. To get the most comfort from your wheelchair speak to your OT about whether to choose a foam, air or gel cushion.
Some manufacturers also combine these materials to give you a balance of comfort, stability and, ultimately, support. Another consideration is the material. Some materials used on the design are selected for highly sensitive skin to reduce the chances of experiencing pressure sores.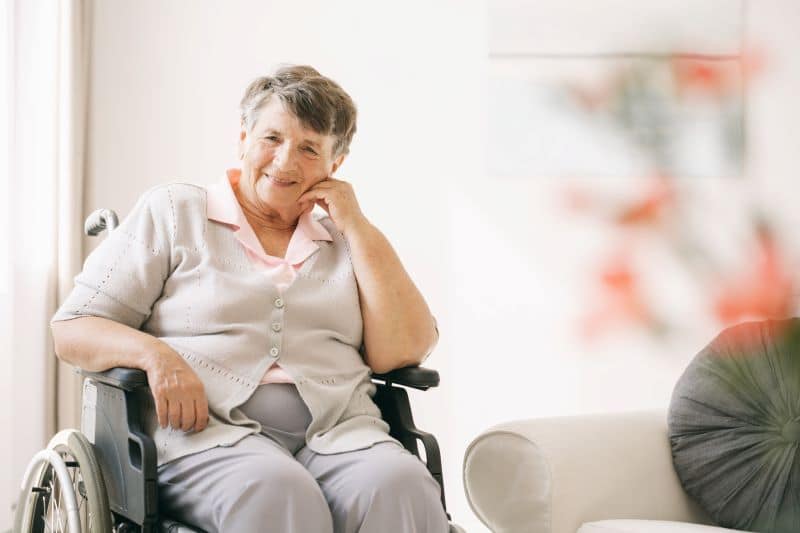 Soft armrests mean extra wheelchair comfort
Maybe you rest your arms on your armrests but there's also the chance you need to lean on them to hoist yourself up. Either way, using cushioned armrests can help reduce pressure on your arms and skin. Since you're likely to use your armrests for balancing, the softer (while also being firm) the better.
In fact, one celebrity Australian uses his wheelchair armrests to sing…
Opera singer and disability advocate Tim McCallum was told he couldn't sing again after a spinal cord injury. The reason being that he could no longer use his stomach muscles. Stomach muscles tend to do the hard yards during singing but Tim came up with a workaround.
He uses a self-made technique of pushing with his arms against his wheelchair armrests and using that force to sing. If ever there was a reason to have incredible and comfortable wheelchair armrests, this is a good one.
Read more about Tim McCallum in our article on NDIS and Assistance Dogs.
Be comfortable in a wheelchair with the right clothing
As we know, sitting for long periods can wreak havoc on blood flow and blood pressure, causing sudden spikes and dips in temperature. It's crucial to wear the correct inclusive clothing and change it to suit your fluctuating temperature.
As Australia's first quadriplegic inclusive fashion designer explains, adaptive clothing can also help in other ways. For example, not having buttons or zips pressing in all the wrong places. This helps mitigate health problems like pressure sores while aiding temperature control.

Read more about the Adaptive Clothing Collective at Australian Fashion Week.
More on getting the most comfortable wheelchair
Hopefully you're able to accomplish the perfect balance of the right wheelchair and accessories for daily use. Before you make your final decisions on how to make a wheelchair more comfortable, read about these different types of wheelchairs:
Also discover the immense benefits and sense of comfort that comes from insuring your wheelchair. Insurance is a small investment you can make to protect your wheelchair, but it's very different to savings. If you have an accident and your wheelchair gets damaged or broken your savings might not be enough to replace or repair it. The same applies to replacing a stolen wheelchair.
A wheelchair insurance plan can really help you financially if any of these situations occur. Your insurance plan can help pay the costs of repairing or replacing your wheelchair. You won't be alone. Now that's a thought to help to make using your wheelchair more comfortable!
Click below to get a quote today.