Valentine's Day is the perfect time for a short holiday getaway. Whether you go with a partner, friend, family member or pet, it's a chance to unwind. And we're always up for that!
Australia has a wealth of desirable destinations. Despite restrictions, you can get relaxing, romantic and accessible all in one. Without even having to go abroad… What's not to love? In this article we've rounded up our favourite accessible Valentine's Day getaways across the nation.
And for those travelling with furry friends (whether pets, assistance dogs, or therapy animals) as their Valentine, never fear. We've included great pet friendly accessible accommodation options too. Because pets are part of the family!
Top accessible Valentine's Day getaways in Australia
International travel has taken a dip since the pandemic began, to say the least. Luckily for Aussies, our local travel options are excellent. Also, for those with therapists, doctors and other medical practitioners on speed-dial, getting away without venturing too far from home can bring added peace of mind.
With this in mind, here are our top Valentine's Day getaways in Australia:
Woodcutters Cottage, QLD
Palais Royale, NSW
Ningaloo Chalet, WA
Crafers Hotel, SA
For those whose pets and assistance dogs travel too, read our pet friendly accessible accommodation options in NSW, WA and SA. And while you're at it, take a look over our Blue Badge pet insurance.
We've also rounded up wheelchair accessible car hire options.

Greenlee Cottages are the perfect blend of contemporary charm and rustic comfort. The four idyllic cottages are nestled on a macadamia nut farm and are run by husband and wife team Paul and Robyn Lee.
Each cottage is named after a local tree: Callistemon, Casuarina, Silky Oak, and Woodcutters. Woodcutters Cottage offers accessibility features including bathroom grab-rails and seating. Four people can easily fit, thanks to a main bedroom with an ultra-comfy queen-sized bed, plus a second bedroom with two single beds.
The interior design is done in soft whites against earthy woods to complete the modern rustic feeling of enchantment. Whether indoors or out on your private deck, the gentle sloping Canungra Valley views are breathtaking.
Woodcutters Cottage includes a well-designed kitchenette equipped with everything you need. Although if you prefer to eat out, there are plenty of local markets and wine trails for tasting. And there's another bonus… Your complimentary breakfast basket includes all sorts of locally produced goodies. Yum!
Ningaloo Chalet, a Valentine's Day stay in Exmouth WA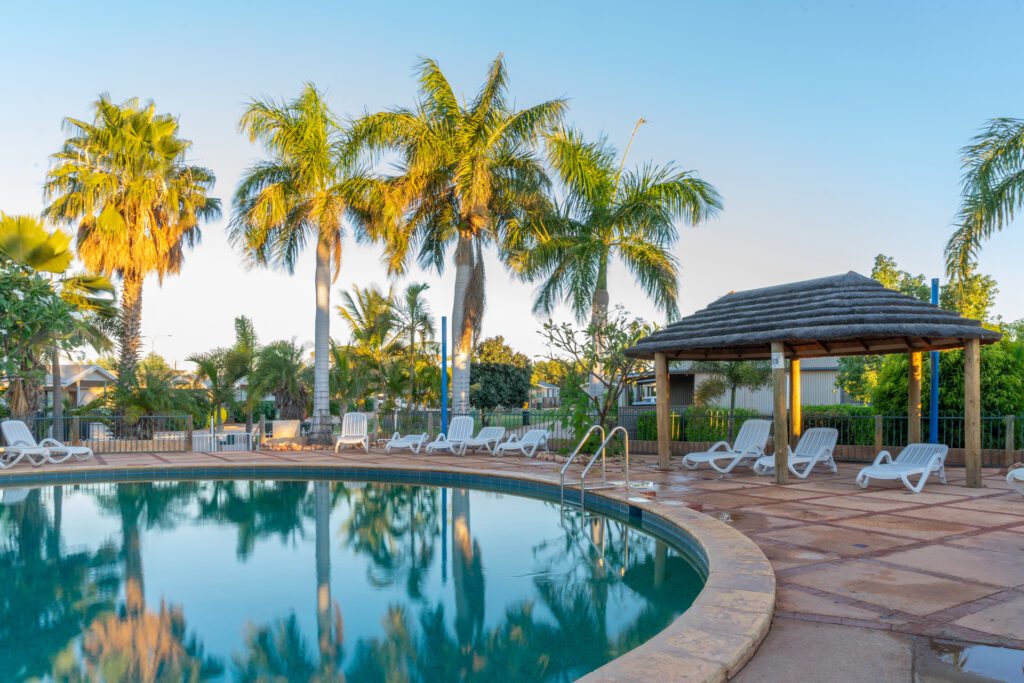 Ningaloo Caravan and Holiday Resort is in the town of Exmouth. For those of you who don't know it, Exmouth was voted 'one of the Top 10 Aussie towns to visit' by Wotif in 2021. So you'll definitely want to set aside a few days for a trip!
It's an ideal Valentine's Day destination if you want to bring along family too. Or just for the two of you.
Ningaloo is surrounded by beautiful beaches, creeks and canyons. That said, you might find yourself not wanting to leave the onsite entertainment areas, all of which are designed for wheelchair access.
You'll also find a curvy 25-metre swimming pool surrounded by alfresco patios. plus an award-winning restaurant that foodies will love. You'll probably feel like you're on a family paradise island surrounded by frangipanis, bougainvillea and palm trees. Aaah, bliss.
Speaking of food-lovers, read about home delivery meals and more if you're having a staycation.
The website mentions 'an award-winning accessible chalet with wheelchair access'. However, you'll need to contact them directly to find out what accessible features are on offer.
Palais Royale, NSW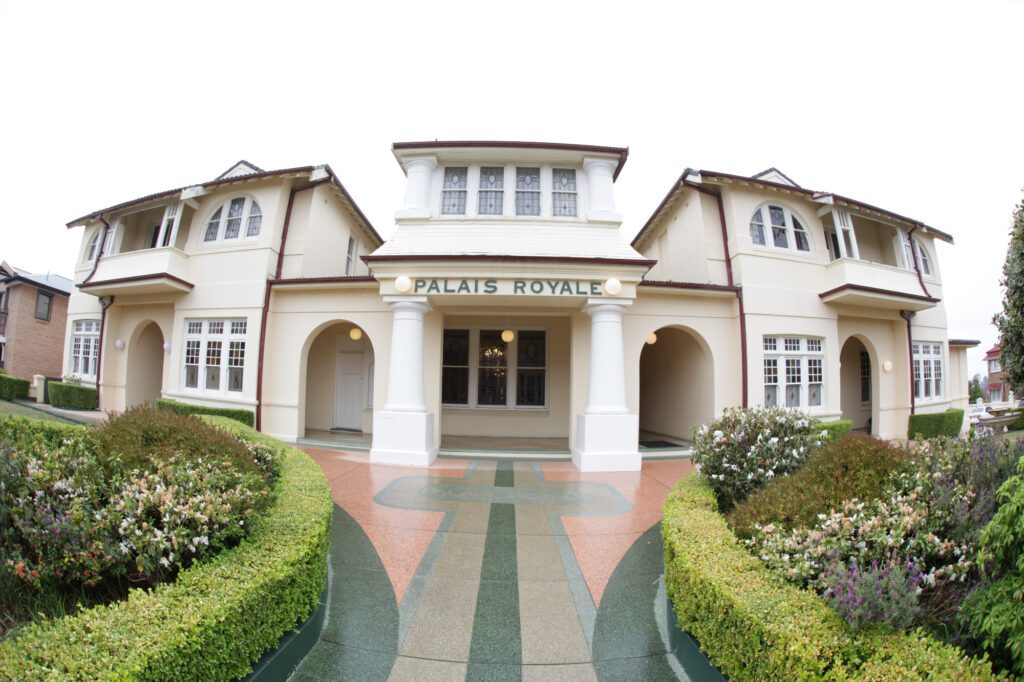 The Palais Royale is an iconic luxury boutique hotel set in the Blue Mountains, near Sydney. It began as two cottages side by side when it was first built at the start of the 19th century. Over time, the cottages have undergone many transformations. They've been a school, convent, bible college and guesthouse over the years.
'Our historic hotel combines relaxation with old world charm'
– Palais Royale website
Then in 1997 the building underwent a multi-million-dollar restoration. Finally, it transformed into the luxury setting we know today.
Many say it's the ultimate romantic destination. Other than the heated spa, you'll also be treated to a sauna, hot buffet breakfast and beautiful, classic finishings.
Thanks to the tranquil setting, splendid classic décor, and immaculate gardens, Palais Royale is one of our top Valentine's Day holiday getaways. In order to find out more about their wheelchair accessible accommodation and facilities, contact them directly.
Crafers Hotel (Norfolk Room), SA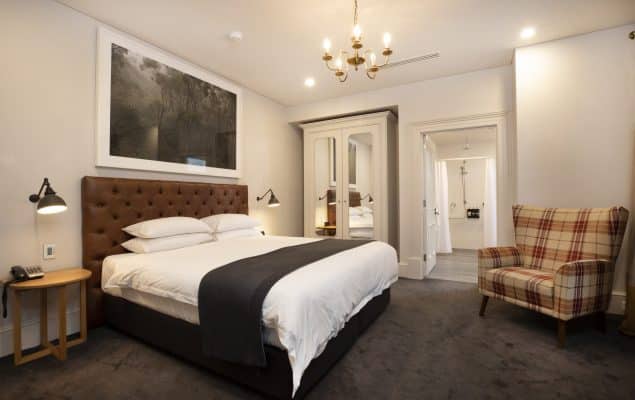 Originally built as a pub and established in 1839, Crafers Hotel is an elegant double story hotel. In 2018 it won the National Awards for Excellence. And we're hoping that's thanks in part to the 'Norfolk Room'.
'Norfolk Room is our access room'
– Crafers Hotel website
The Norfolk Room is designed as the hotel's 'access room.' This luxurious suite boasts a king size bed, soft lighting, and sophisticated décor. The bathroom is well-designed for accessibility with features such as a bench seat, safety railing, and large shower.
This romantic Valentine's Day getaway includes a complimentary mini bar, tea and coffee facilities. So you can relax in your own little bolt hole drinking coffee and reading a book. Otherwise, you could opt for something stronger and treat your Valentine to one of the 18 beers on tap or a bottle from their 10,500-strong collection.
Honestly, there's no need to leave the hotel for the whole getaway!
TAS and NT
Need to find something in Tassie or the Northern Territory? We love the AGFG website for checking out some of the top options:
Disability car insurance and wheelchair insurance over Valentine's Day
The last thing you want during a Valentine's Day getaway is to worry about the safety of your converted car or mobility equipment. If they're broken, stolen or damaged, the romance could fly out the window.
But if you have disability car insurance, your plan can help cover the costs of repair or replacement. Car insurance for wheelchair accessible vehicles and disability converted cars can even cover the mobility equipment in your car too.
You might also want to find out about our wheelchair insurance and mobility scooter insurance.

Contact us today to get up to 25% off car insurance for holding a valid disability parking permit.