There are many reasons you may need to hire a Wheelchair Accessible Vehicle (WAV), from travel to short-term car replacement while yours is being repaired or serviced. The same applies to converted car hire. With more companies now catering to people with disability, wheelchair-friendly cars have become easier to find.
In this article we've listed 15 options for wheelchair car hire and something for converted car hire too. We've also outlined five things to consider when making your booking.
5 things to consider when booking your car
Besides getting the best company to suit your needs, you always want to make sure the booking and hiring agreement meets your expectations too. Here are four considerations to keep in mind before signing on the dotted line: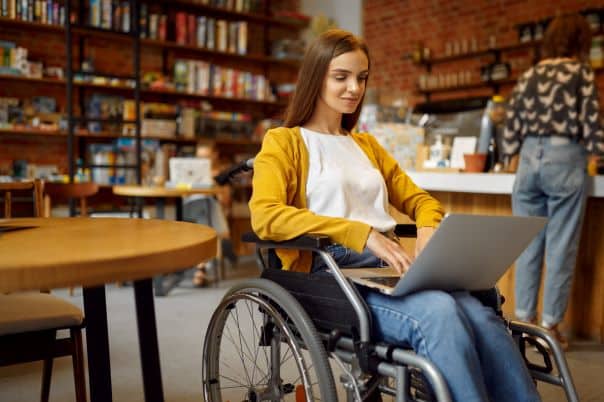 1. Read your booking terms
When booking online and entering a wheelchair accessible vehicle hire agreement it is important to understand the terms and conditions of your booking. Particularly if you have never booked with this company before.
2. Compare your options
Saving money is always nice, but some companies may have hidden extras that quickly increase your total. If you have the time it will be more beneficial to you to compare a few businesses so you can better understand what you're paying for.
3. Ask questions
Are you packing lots of luggage? When making a booking, be sure to ask about the space within the vehicle, as conversions and other adjustments may leave minimal room for you to fit luggage such as essential equipment.
4. Consider funding
If your car hire will be funded or reimbursed by a provider such as the NDIS, be sure to ask your funder what information you need to provide to them for payment. Alongside this, be sure to collect an invoice and any available information about your hire that may be needed by your funder. This will help make the process easier in the end.
5. Check customer reviews
The best way to see if a company is fair and honest is often what other customers say about it. If they feel they had a fair experience and were treated well, they will say so. And of course if a company isn't fair or above board in their pricing, agreements or customer care, customer reviews are a good place to check.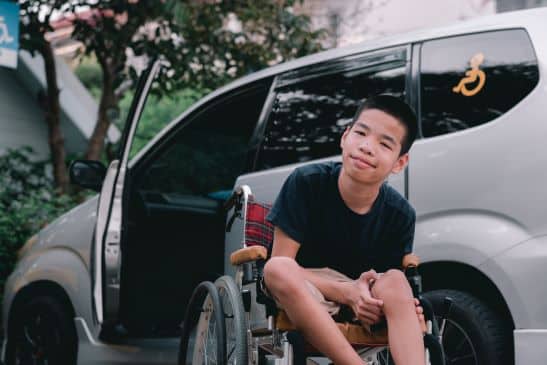 15 car hire companies to remember for your next trip
So you don't have to spend time exploring wheelchair accessible vehicle hire yourself, we've researched for you. The companies listed below all offer this type of vehicle.
AAB Rentals is great for travelling with a group and will also help deliver you to your destination. This company can cater to up to six wheelchair seated passengers and offers rentals across Australia. Read about some fantastic accessible accommodation options this winter!
Brazier Mobility specialises in converting and hiring vehicles suitable for wheelchairs. Available for hire are a series of small capacity and commuter bus vehicles, suitable for every need. Brazier Mobility is based in South Australia.
Disability Hire Vehicles is a Sydney based business that offers an array of disability converted vehicles. These range in sizes from a mini panel van to mini-van and mini-bus, catering for all capacity requirements.
If you're looking for wheelchair accessible vehicle hire that you can book online then visit Europcar to access its range of Kia Grand Carnival WAVs for hire at locations across Australia.
GoGet is an Australian rideshare platform, helping people travel from A to B around the country. It currently offers WAV bookings via a smartphone app for the North Shore area of Sydney only.
Freedom Motors primarily works in converting vehicles for accessibility, however, it also offers WAVs for hire in the Sydney area. You can be picked up and returned from St Mary's, which is about 40KM from Sydney CBD; alternatively, you can opt for a pickup/drop off at an additional fee.
Hertz wheelchair friendly vehicles can be hired from Melbourne, Sydney, Brisbane and the Gold Coast and offer online bookings. That way you can spend more time exploring!
In Western Australia, you can hire WAVs from Hire Mobility. They provide a variety of WAVs that can seat up to eight people. Perfect for a family holiday trip. Read about about pet friendly accessible accommodation options in Australia.
While on the topic of pets, did you know we also offer pet insurance and assistance dogs insurance? That means you can rest assured you'll be able to cover any pet medical care costs you need to if pets get injured on holiday.
If you need a hire car Queensland then visit Nation Wide Mobility Vehicles for an extensive range of wheelchair accessible cars in many sizes.
Uber is a rideshare service available around Australia with lots of drivers equipped and wheelchair accessible vehicles. The company supports wheelchair passengers by ensuring all drivers are certified to help these passengers safely enter and exit the vehicle. Book via a smartphone app.
If you're in Sydney, Brisbane, Melbourne and Canberra, then Wheelaway has a variety of small and large vehicles to suit your needs.
Wheel Easy is located in Perth and offers WAVs equipped for both wheelchair users who self-drive and passengers who use wheelchairs.
Looking for a vehicle capable of a long-distance adventure? Wheelie Campers provide wheelchair accessible camper vans for hire so that you can get the full road-trip experience with the comfort of a hotel. Their camper vans feature a kitchen, air conditioner, toilet, TV, wheelchair hoist, GPS and safe tie-down points.
Feeling inspired to take a road trip? Then read about these accessible holiday stays (and find out if you can use your disability parking permit in another state).
Wheelies service area caters to people based in Adelaide and Hobart, as well as Sydney, Brisbane and the Gold Coast. They also have cars to accommodate multiple wheelchairs.
Brazier Mobility in Adelaide has several Kia Carnival WAVs for hire and is also an NDIS registered provider. The cars on offer include several modification options, like rear ramp wheelchair access and multiple restraint points for example.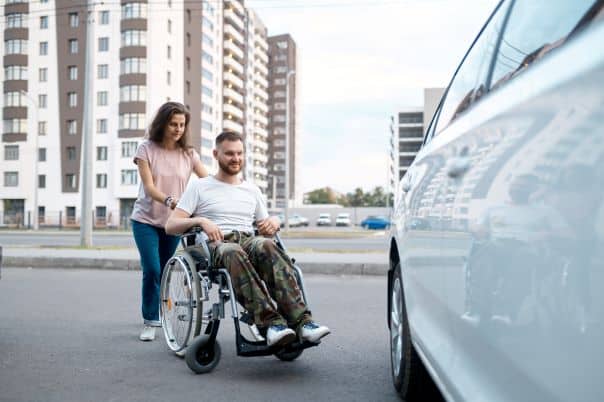 Looking for a converted hire car?
Although the market for converted hire cars is narrow, you can hire one from Disability Hire Vehicles. Choices include a station with several optional car modifications for drivers with disability. For example, hand controls, left foot accelerator and/or a Wymo wheelchair roof hoist.
Hire car benefit is part of your disability car insurance plan
When you purchase insurance for wheelchair accessible vehicles from Blue Badge Insurance you can get up to 25% discounted premiums. That means you only pay a small amount every month. And when you need to repair or replace your car we help you pay those costs.
Did you know your car insurance plan will also include up to $150 p/day for wheelchair accessible vehicle hire for up to 28 days. If your car gets stolen you'll still be able to get from A to B.
These benefits also apply to your non-modified or converted car when you buy disability car insurance provided you have a disability parking permit.
Click below to get started.