Wondering whether Guide, Service and Assistance Dogs can go on planes? Look no further – you're in the right place. If you have an Assistance Dog and will be flying with a disability, taking them onboard is likely essential to your travels.
In this article Blue Badge covers off the steps you need to take to fly together. Whether you're travelling for holiday, admin or medical reasons, find out if and how you can have your trusted companion at your side.
Can Assistance Dogs go on planes?
Most airlines will allow Assistance Dogs on planes. However, a few requirements need to be fulfilled when you apply to bring yours onboard. The two main ones, generally, are proof that your dog is trained and certified with a recognised organisation and that you apply in advance.
Let's take a look at the four main steps for flying with Assistance Dog.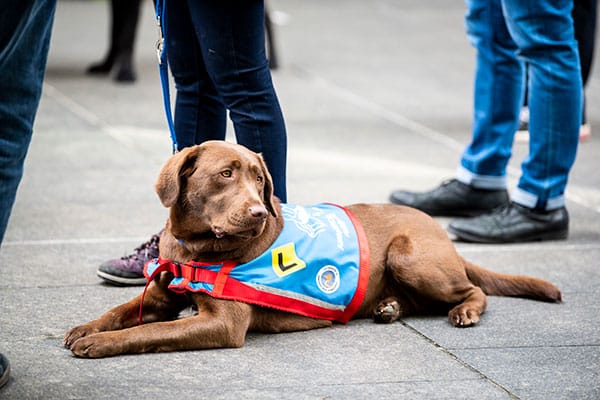 1. Book in advance when flying with an Assistance Dog
When travelling with your Assistance Dog it's important to notify the airline in advance. Essentially you're applying for approval to travel with your Assistance Dog. Applying well in advance gives the airline time to view your application and make the appropriate arrangements.
Each airline may have a different notice period. For example, the notice period for Qantas is 14 days before flying. Depending on where you and your Assistance Dog are flying to and from, the airline might need additional documentation (over and above what's listed below). By booking well in advance you'll give yourself the necessary time to gather extra documents as needed.
Keep in mind that international travel might mean a period of quarantine. Be sure to contact the Department of Agriculture Fisheries and Forestry to see whether this will apply to your Service, Guide or Assistance Dog when flying.
Most airlines accommodate flying with your Guide, Service and Assistance Dog. However, according to our Civil Aviation Safety Authority the flight captain still has the final say. This is regardless of whether or not the airline has already approved your application. 
2. Prep certification documents
You might have heard about people passing off their pets and therapy animals as Assistance Dogs? After all, pets can help mental health. However, it's important to recognise that a certified Assistance Dog has had training and testing under strict criteria.
Assistance Dogs require around two years of training before they're ready to support disability. Before an airline will approve your application to have your Guide, Service or Assistance Dog fly with you, it will need to see the relevant certification.
✈ Proof of training
This may vary slightly from one airline to another. Generally it includes proof that your pup meets the training requirements of Assistance Dogs International or Guide, Hearing and Assistance Dogs Act. You'll need the current membership or ID documents from the relevant organisation.
✈ PAT test
In addition to training and membership documents, you should also submit a copy of your dog's PAT test. The PAT test or Public Access Test gives your dog access to places other animals can't go. A PAT test needs to be done with a recognised Guide, Service or Assistance Dog organisation. Like Assistance Dogs Australia for example.
Requirements may change from one airline to the next, so be sure to contact them in advance. Here's a useful list of some local airlines' requirements for flying with a disability and a dog – whether a Service, Guide or Assistance Dog:
✈ Airlines
Watch this video that shows what it can be like for Guide Dogs on planes, from Qantas and Guide Dogs Victoria:
3. Outfit your Service, Guide or Assistance Dog for flying
Guide, Service and Assistance Dogs should always wear a working vest in public and flying is no exception. Airline staff needs to easily see that you're travelling with a certified Assistance Animal. The vest helps to quickly and visually set your dog apart from a regular pet or therapy animal.
Be sure your Guide, Service or Assistance Dog wears its vest before boarding and during the flight. If the vest is problematic because it makes it harder for your dog to support you, then speak to the airlines in advance to see how they can accommodate this.
4. Ensure flying safety for your Assistance Dog
The airline will choose where you sit with your Assistance Dog. That's because the best location depends on the available seating arrangements and the layout of the cabin. While flying, airlines might ask you to tether your Guide, Service or Assistance Dog to a point provided.
They'll generally supply an absorbent mat for your pup to sit and lie on.
Before the flight it's important to give your dog adequate exercise. Since they'll be cooped up on the flight, helping them expend any excess energy beforehand will help them have a better flight experience. Also be sure to avoid giving them too much food or water just before the flight. Try feeding them and giving them fresh water well in advance so they have time to digest and do toileting before boarding the flight.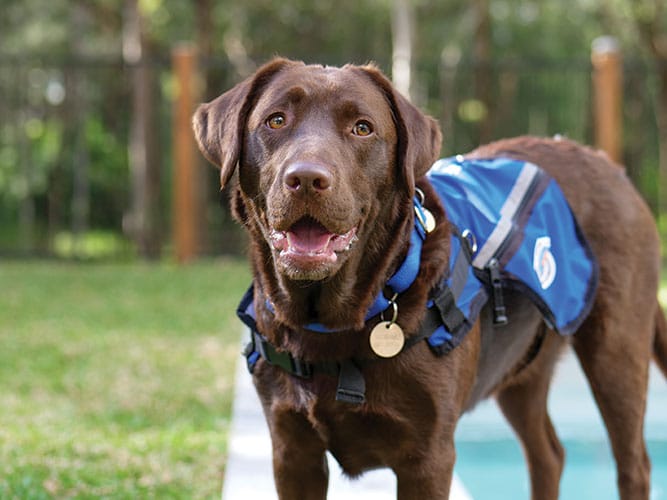 Different types of Assistance Dogs
Assistance Dog is really just an umbrella term for dogs that are certified and trained to support people with disabilities. Whether your dog is a seeing, hearing, psychological or physical support dog, you can essentially still refer to them as Assistance Dogs.
Of course, there are different terms used to describe the various supportive roles these furry heroes fulfil. For example, a seeing Assistance Dog is often called a Guide Dog. A dog that helps with PTSD might also be called a psychiatric Assistance Dog.
Read our guide to different types of Assistance Dogs and ways in which they support us in our daily lives.
One area where these dogs aren't all recognised in the same way appears to be funding. Read the Blue Badge article on Guide, Hearing and Assistance Dogs NDIS funding for more. Also read our interview with Tim McCallum for a firsthand account of the situation.
Service, Guide and Assistance Dogs on planes
No matter when or where you're flying with your Service, Guide or Assistance Dog, we hope you have a safe and wonderful journey. Speaking of safety do you have insurance for your Assistance Dog? If they're injured or fall ill your policy could help you pay for the medical costs. This can be good for your pup and your pocket.
Read up on our Assistance Dogs insurance and pet insurance. Click below to get a quote and, while you're at it, why not explore our wheelchair insurance and mobility scooter insurance too.