On the ground activists work tirelessly to advocate for those living with disability. It's an ongoing challenge pushing for disability rights and equality in a world that still has very far to go to be truly inclusive. They're the real champions when it comes to working for disability visibility.
No wonder it's often heartening when well-known people add their voice to activists advocating the cause. They have huge audiences and influence, and a single act of disability awareness can ripple out in many ways. Below is a list of people who've used their platforms to put a spotlight on disability rights.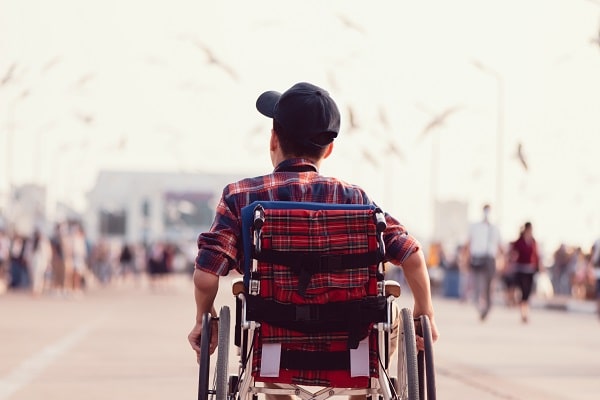 Marlee Matlin adding to disability visibility
First is actress Marlee Matlin. Matlin played a deaf woman who works as a janitor at a school for the deaf in Children of a Lesser God, which earned her much critical acclaim and an Academy Award. She also appeared in several seasons of The L Word and more recently, Apple+'s Coda.
Matlin is one of the few actors in the entertainment industry who has significant hearing loss. She's been a driver for disability visibility throughout her career.
Matlin helped move the progress dial by aiding in the passing of legislation that requires American Sign Language interpreters to be present at all Covid-19 press conferences. She also put together a public service announcement on how to vote that aided millions of deaf and hard of hearing Americans in getting resources. Thanks in part to her efforts, all Academy Award film screeners have closed captions.
Be sure to check out our list of Aussie Wheelchair Users Who Are Changing Our Culture for some awesome local voices.
Selma Blair for disability visibility
Second is Selma Blair, an American actress best known for her roles in films such as Legally Blonde and Cruel Intentions. In 2018, Blair received a diagnosis of multiple sclerosis (MS), a condition that affects the central nervous system. Since then, she's been open about her experience with MS and has used her public profile to raise awareness about the condition.
Blair has played an active part in the National Multiple Sclerosis Society's "Can Do MS" program. It provides learning resources, tools, and support to people with MS and their families. She's also spoken out about the need for more funding for research into MS and for better access for people with disability in all aspects of life.
Through her work, Blair has become a role model and a source of inspiration. Her presence as an actress with MS creates much needed disability visibility for those living with the condition.
Activism isn't only for adults, check out these 4 Kids Show Characters Giving Disability Visibility.
Ryan O'Connell
Third is Ryan O'Connell, an American writer, producer, and actor. He's best known for his writing on the hit Netflix series Special. It's based on his own life experiences as a gay man with cerebral palsy.
O'Connell uses his platform to raise awareness about disability rights issues. His aim is to show more people living with disability in the media.
Aimee Mullins adding to disability visibility
Fourth is Aimee Mullins – an American athlete, model, and actress. She was born with a condition that lead to the amputation of both of her legs below the knee. She's been a voice for people with disabilities throughout her career.
Mullins has given numerous public speeches and interviews about the importance of disability visibility and embracing diversity. She urges people to challenge negative stereotypes and misconceptions about disability. In addition to her advocacy work, she takes part in various initiatives and organisations aimed at improving the lives of individuals living with disabily.
A mixed bag: Lady Gaga
Fifth is singer, song writer and actress Lady Gaga – one of the world's most well known people. She's been known for being inclusive by adding dancers with disability to some of her music videos and performances. One notable example is her performance at the 2020 Super Bowl Halftime Show.
She's a particularly outspoken voice for mental health, and has encouraged people to seek help and support if they're struggling. Mental health issues like anxiety are considered one of the world's most common invisible disabilities.
At the same time, advocates have criticised Lady Gaga for some of her choices regarding disability representation. Some consider her video for Paparazzi ableist because it suggests that to be successful and famous, you can't be disabled. Activists heavily criticised her for performing on stage while using a wheelchair.
These voices on social media
They may not be famous (yet), but these social media users are sparking conversation and fighting for their rights. Whether it's on TikTok, Facebook, Instagram or Twitter, they highlight ongoing inequalities and ongoing discrimination against those living with disability. And they urge us to do better. Be sure to check out:
Spencer West
First is Spencer West. He uses humour and physical comedy to give insight into how he navigates life as an amputee. West also has sacral agenesis. He balances his comedy with an important message, acknowledging that his experiences may not be representative of other people with similar conditions. Through his content, Spencer sheds light on the challenges and triumphs of life with a disability.
Alice Wong
Second is Alice Wong, founder of the Disability Visibility Project. Wong is a writer, thought leader and published author. She's received dozens of awards for her work, and was named by Time magazine as one of 16 people fighting for equality in America in 2020.
Her community led digital media project is dedicated to creating more representation and visibility for people living with disability. It's a joint effort between Wong and a team of disability rights activists, writers, and media makers.
Aaron Philip
The modelling world is sorely lacking when it comes to disability representation. Aaron Phillip is an American model and activist with cerebral palsy. She broke barriers as the first black, LGBTQ model living with disability to sign with a top modelling agency. She's been an especially important actor for disability visibility for transgender people and people of colour.
Erin Novakowski
Lastly, is Erin Novakowski. She has spinal muscular atrophy and uses TikTok to share her lived experience. She's known for her candid conversations and ability to teach able bodied people about disability rights.
"If you're planning on checking out Erin Novakowski's TikTok page," wrote Refinery29, "let's get one thing straight: The 20-year-old content creator isn't here to make people without disability feel warm and fuzzy or comfortable with her disability. Because her content isn't really for them."
Instead, she uses her platform of over 660,000 followers to make people living with disability feel more seen and heard.
LEGO enters the fray
While not a human, mega toy company LEGO definitely has a big voice. This makes it all the more heartening to see their recent introduction of characters living with disability into their new 'LEGO friends' range.
The characters include those with Down syndrome, limb differences, anxiety, and a dog with a wheelchair. The collection has more detailed and realistic looking LEGO characters than before, and they feature more diversity with multiple skin tones, cultures, physical and invisible disabilities, including neurodiversity.
This comes after LEGO cited results from a study that surveyed more than 32,000 parents and 24,000 kids to find an "overwhelming desire for more representation in play and more discussion on diversity."
Disability-specific insurance
Blue Badge Insurance isn't just another insurer – we truly understand your independence and mobility needs. We go the extra mile to ensure proper coverage of your crucial equipment and/or vehicles. Check out our disability car insurance offering, where you could qualify for up to 25% off your premium.
To help you understand more about us, read about five ways Blue Badge Insurance differs from traditional insurers.