Travelling with a disability in Australia requires a fair amount of advance planning, almost as much as it does with travel abroad. Doing so will ensure getting to your destination is a seamless journey… as much as it can be, anyway! Whether it's air travel with a disability you've set your sights on or road travel into the great unknown, this guide should help make the process less daunting and more exciting.
We also recommend you read our article on the four pillars of disability access in travel and tourism. With both of these in hand you'll be sipping cocktails by the beach or rolling through beautiful bushland before you know it.
First step: Schedule a medical checkup
Schedule an appointment with your doctor to talk about your travel plans before making any bookings. Discuss whether you're fit to make the journey – to your destination, throughout your desired activities and for the travel back home.
Crucially, speak about managing all your medical needs during the trip. Work together a list of medication, medical aids and mobility equipment you need to bring. Discuss hypotheticals of what steps you/your carer will take in a medical emergency situation. It's important to listen to your doctor's advice or concerns and it's important that they listen to yours.
If your travel plans also include overseas, also explore any vaccinations you need to take for the destination/s you'll visit. There might be paperwork to go along with that, so be sure to have that sorted out well in advance.
Road travelling with a disability in Australia
If you're planning on road travel for your upcoming holiday then we have a host of articles to help you prep well, book well and enjoy the ride. Car travel is less stressful than air travel with a disability – most of the time – but it still pays to do your research on best practice car travel before you leave.
Key elements to this include: planning your route as much as you can (including locations of accessible toilets and parking), researching the accessibility of your preferred overnight stays and leisure activities before booking, ensuring you have all the right medication and equipment ready to be packed, thinking about emergency back-ups for equipment like wheelchair batteries, understanding how/where you'll get new medication while on holiday, and more.
Top tips articles to assist you
There's so much to consider for a happy and healthy road trip; let us help with these articles as well as this one you're reading:
Also be sure you have disability car insurance covering your ride, so you can get back on the road quickly and affordably after an accident. You don't want to be stuck in the middle of Australia without insurance and roadside assistance to have your back!
Now let's look into more detail on elements like taking your service dog, medicines and mobility equipment plus things to think about air travel with disability.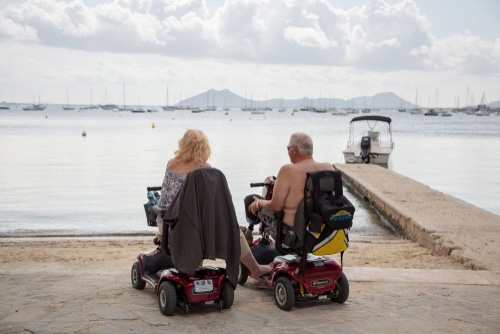 Bus / boat / train / air travel with a disability: Taking mobility equipment
If you're living with mobility issues you'll need to find a mode of holiday transport that can service your equipment requirements. If you're not travelling in your own car, before you make any transport bookings find out if adjustments can be made to support you.
Talk to potential transport providers about their policies around mobility and medical equipment. Where can you take them and when? How will they be stored if they can't be with you at all times? At what point can you get them back again? How will they accommodate you if they take away your wheelchair, scooter or other equipment? What happens in a XYZ type of emergency?
Some medical equipment and the number of wheelchairs you're allowed to take may be restricted on flights, for example. There may also be rules around where battery-powered wheelchairs can be stored.
Side note: if you end up travelling to another country as part of your holiday adventure, remember to take adaptors to charge your equipment as plugs aren't the same overseas.
Tips for air travel with a disability
Travelling with a disability in Australia, including air travel with a disability, is increasingly accessible with the emergence and fine-tuning of various supporting policies.
For example, airlines and airports are bound by the Disability Discrimination Act to assist people with disability. The services they're required to provide these days include help with:
Getting around the airport.
Handling baggage.
Getting on and off the plane.
Getting to and from the plane toilet (in the case of a semi-ambulant person).
Opening packages and identifying food on board the plane.
Delivering safety briefings in a way that all passengers can understand.
What staff are not expected to do is assist with eating, administering medication, using the toilet or lifting or carrying a passenger.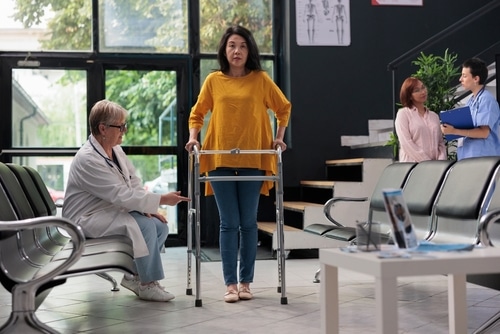 Prior to buying a plane ticket
Before booking a flight write down a clear list of your individual requirements and ask these questions to airline staff. This list can include information such as will you:
Be travelling alone or with a carer?
Need help navigating the airport?
Need help with baggage and boarding?
Be able to use the toilet on the plane?
Be able to understand safety briefings and instructions from staff? (Some airlines have braille or large-print books available).
Be travelling with an Assistance Dog?
Be travelling with medication?
Read more of our tips on air travelling with a wheelchair or mobility scooter.
Air travel with a disability: Taking medicines and medical aids
If you're travelling with a disability in Australia via plane, you're required to undergo security screening just like everyone else. However, government regulations state that every person's needs are considered during the process.
For example, alternative screening processes are arranged for people with metallic joint implants and who carry medical and disability devices and aids.
Prescription and non-prescription medicines are allowed on domestic flights, but there may be limits on international flights. Here are tips for bringing medication when undertaking air travel with a disability:
Get a letter from a doctor identifying and describing any prescription or non-prescription powder, gel or aerosol medication.
Before you travel check the restrictions for medicines and medical devices.
Have medication and accompanying documents ready for inspection by security at the airport.
Ensure the name of the medicine labels matches the name on the boarding pass.
Taking up travel insurance for air travel with a disability
Things don't always go according to plan – this is why it's vital to buy travel insurance. It's equally important to choose the cover that best suits your unique needs.
Declare your disability to your insurer, otherwise it can affect any claims you make during or after travelling. An insurer can't deny you insurance as a person with disability as this is discrimination. However, it may cost you more to get insurance that covers your disability, which is also the case with pre-existing health conditions.
Although policies differ when it comes to coverage, important things to check include:
Whether medical devices, aids or equipment can be replaced, if they're lost, stolen or damaged while you're travelling with a disability in Australia (if you're with Blue Badge Insurance for your wheelchair insurance or mobility scooter insurance, know that this is already covered).
If you need to see a local doctor to get insured before undertaking road or air travel with a disability.
Which types of medical tests, treatments and evacuation costs are covered.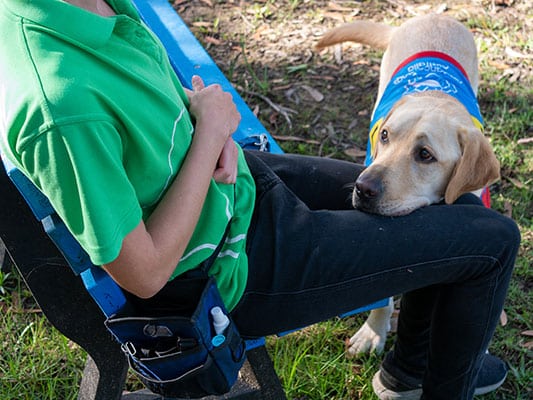 Taking a service animal when travelling with a disability in Australia (and beyond)
Assistance Dogs are allowed to travel in pretty much all public spaces across Australia because they've passed their dog PAT test. It's always best to call and check at each location, though. If you have a service dog you've no doubt encountered places and people who are ignorant to the access rules of Assistance Dogs.
These dogs' public access rights means they're generally allowed to travel on the floor of the cabin on domestic flights too. If travelling with a disability in Australia leads into overseas travel, know that international flights may be trickier because of quarantine laws and airport rules in the country you're travelling to. You'll also need to consider the quarantine requirements when returning to Australia.
To take an animal overseas, your animal may have to:
Be in quarantine for a specific period.
Get vaccinated before you travel.
Travel with supporting documents from a vet.
This could apply when you enter or leave Australia and your destination. Check what you have to do before you travel. Read advice on the Department of Agriculture website.
Whether it's domestic or international travel you're planning, speak to the airline well in advance. Also be sure that you have the necessary paperwork from an accredited animal training organisation.
Consider mobility equipment insurance
If you have a wheelchair, getting comprehensive wheelchair insurance that covers travel is vital before you set off on your big adventure (read our article on wheelchair travel insurance). The same goes with scooters. Otherwise, you could be left stranded. If you're comprehensively covered by a company like Blue Badge Insurance, we'll ensure your mobility equipment is repaired or replaced as quickly as possible.
We also offer Assistance Dogs insurance, ensuring you're able to afford the right treatment for your service dog when they need it. Why not contact us for a quick quote?