Are you searching where to buy, hire or repair 'mobility scooters near me'? If so, there are a few avenues you can choose from. Before getting started, it's important to have a basic idea of what you're looking for and need to achieve. This will help you choose the best mobility scooter solution for your lifestyle and disability.
In this article, Blue Badge Insurance walks you through some of the basic points. We look at working with an occupational therapist and why you would. We also look at different types of mobility scooters as well as various funding options.
Here's what's in store.
Reasons to look for mobility equipment near me
There are several good reasons to research 'mobility scooters near me' for buying, hiring or repairing one.
Buying and hiring
It's obviously convenient for you not to have to travel far when trying out and choosing different models. If you can find a supplier nearby that offers the right type of mobility scooter that's ideal.
When getting the right mobility scooter for your needs – whether buying or hiring – you really need to try it out first. You also need to be able to easily access where you've got it from if you want to return it or speak face to face about any questions, concerns or advice.
Your scooter is your mobility. Having help at hand nearby will give you tremendous peace of mind.
So, here are some location-related considerations when buying or hiring a scooter:
Does the mobility scooter supplier near me offer the right brand or type of scooter?
Will they offer follow up support or the right level of follow up support?
Do they have a nationwide chain in case I move to another state or territory down the line?
Repairs
Perhaps you've actually searched for 'mobility scooter repair near me' to get to this article? Understandable. If you own or are buying your own mobility scooter, another key consideration is repairs. Like anything mechanical, a scooter can experience broken parts or stop working occasionally. When this happens your entire day (or days) mightn't go as planned because you can't get out and about.
Of course, you'll want to get your mobility scooter repaired as quickly and effortlessly as possible. This is why having a supplier/repair place near you can be useful. However, although this makes sense there are reasons you might also want to look beyond who's near you.
When searching where to buy, hire or repair 'mobility scooters near me', you best keep the above considerations in mind. If you're spending funds on mobility equipment, getting the right equipment for your body, lifestyle and disability is crucial.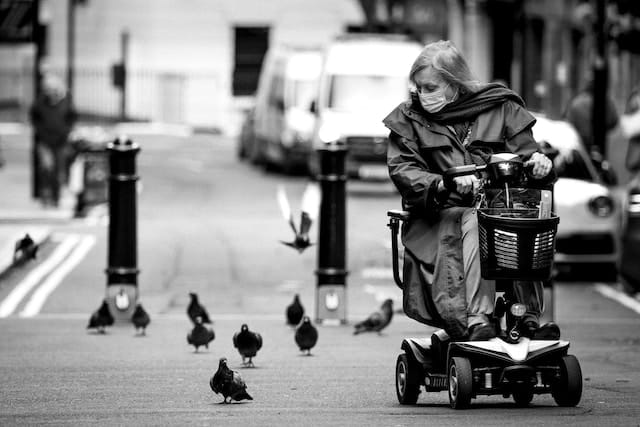 How do I find the best mobility scooters near me?
Mobility equipment like custom wheelchairs and mobility scooters have improved vastly over the years (read about wheelchair advancements, for example). The technology and design around user-friendliness, ergonomics, posture and accessibility is continuously developing.
As a result, regardless of whether you're upgrading your mobility scooter or are getting one for the first time, it pays to have expert advice. Some people rely on the advice of suppliers, but a sound idea is to work with an occupational therapist.
Supplier. A supplier is well-positioned to understand the technology and mechanics behind how the mobility equipment works. That means they can share valuable advice with you about the products they're selling. However, if they don't offer most appropriate product for you, they mightn't refer you to a competitor who does.
Occupational therapist. An occupational therapist worth their salt has an existing network of suppliers whose goods they're familiar with. This means they should be able to help you find the best supplier that's as near to where you live as possible. They can also guide you through the decision process.
Read more on what occupational therapy for disability is and how to find an occupational therapist the first time around.
Occupational therapy for mobility scooter and wheelchair scripting
Buying a wheelchair or mobility scooter is no small feat. It takes hours of research, testing out different equipment, possibly applying for funding and eventually paying for this relatively costly equipment. There are so many considerations that are essential to choosing the correct mobility equipment.
I want to hire, buy or repair mobility scooters near me. How can an occupational therapist help with this?
It's unlikely you'll be happy buying the wrong mobility scooter then needing to make another purchase to get the right equipment later on.
How to get it right the first time
An occupational therapist that's familiar with mobility scooter scripting is someone who can help you make the right purchase the first time. They'll do an occupational therapy functional assessment for assistive tech to explore your needs. They'll also determine your needs and goals, complete a postural assessment, explore your equipment parameters and more. Find out more about occupational therapy for wheelchair and mobility scooter scripting.
Your search for 'mobility scooters near me' is best done together with an occupational therapist. They'll have a network of suppliers and be able to help you find and try out several options like 3 and 4 wheel mobility scooters and folding mobility scooters for travel. They're also usually knowledgeable about ways to fund your mobility equipment.
Your occupational therapist may make funding recommendations or help you do your funding application. They'll know about NDIS funding as well as alternatives to NDIS funding.
For example, if you're the right age and situation you may be about to fund your mobility scooter under home care packages. Read more about this on the ATSA website here.
Mobility scooters near me by state and territory
While your search for 'mobility scooters near me' could be best done with your occupational therapist, doing your own research beforehand is very useful. Familiarising yourself with aspects of mobility scooter batteries, scooter safety and visibility, maintaining your mobility scooter and laws for motorised mobility devices can help you further in making informed decisions.
Regardless of whether you're looking to buy, hire or repair 'mobility scooters near me' your best bet is ATSA. ATSA stands for Assistive Technology Suppliers Australia. It's the peak industry body that represents assistive technology suppliers across Australia.
To find 'mobility scooters near me' all you need to do is go to the ATSA website and click on mobility scooters under the members' directory. Then you can fill in your location and the site will filter the available suppliers nearest you.
Online channels for your search
In addition to searching ATSA and collaborating with an occupational therapist, here are three useful resources:
Remember, having an occupational therapist who knows these suppliers and understands the legislation around disability and mobility equipment can save you endless headaches. Another way to save yourself unnecessary headaches is by having insurance for your mobility equipment.
Wheelchair and mobility scooters insurance near me
After many hours of researching 'mobility scooters near me' and buying the right one, having easy to access insurance is well worthwhile. If anything happens to your scooter your insurance policy means being able to fix or replace it as soon as possible.
Australia's first disability equipment insurance specialists, Blue Badge Insurance is always a call away and you can access your policy any time of day online. Having our wheelchair insurance or mobility scooter insurance can help cover the cost of damage, breaks or replacement for theft. Plus, we offer up to 25% off disability car insurance. We also provide car insurance for wheelchair accessible vehicles and disability converted cars.
Want to know more? Get on the phone to us today on 1300 304 802 and we'll explain how it works. Or simply click below to start your quote.