The NDIS claims it funds Assistance Dogs, but the harsh reality is that this isn't always true. Or perhaps it's more appropriate to say it's rarely true… The NDIS criteria for funding assistance animals seem reasonable and necessary, however, participants with physical disabilities routinely have their applications for Assistance Dogs turned down.
On the other hand applications for Assistance Dogs to aid people with vision or hearing impairments appear to meet with less resistance. Why is this? To gain insight from someone with personal experience, we spoke to Australian singer, actor and disability advocate Tim McCallum. He's been at the forefront of the situation.
I believe that we have discrimination issues on foot. By treating a person with a vision impairment as having a more reasonable disability than someone with a physical disability the NDIS is effectively creating a hierarchy of how disabled you are.
– Tim McCallum
People living with disability are often met with discrimination. However, the last place you expect or need to experience this is the National Disability Insurance Scheme.
Assistance Dogs help people maintain independence
Assistance Dogs are highly trained, accredited working dogs that help people live more independently. For instance, if you're in a wheelchair, your dog can be trained to open doors, retrieve dropped items, brace to support you, deliver and retrieve items at store counters, press remote controls and more.
This can mean the difference between dependence vs independence.
"I am the man I am today because of my Assistance Dog. I remain the independent person I am today because of my Assistance Dog. He allows me to be on my own and tackle the world with him by my side, not reliant on somebody else."
– Tim McCallum
For Tim, having an Assistance Dog has made a world of difference. Watch this video to see some of the incredible ways Tim's Assistance Dogs have helped him maintain independence:
Why won't the NDIS fund Assistance Dogs?
Despite the positive evidence, the NDIS has several arguments to support why it won't readily fund Assistance Dogs for people with physical disabilities. For example, it says more research is needed to measure the benefits for people with physical disabilities. Or that the cost may be ineffective as compared to being aided by a support worker.
Yet the reality is Assistance Dogs only cost a fraction of the funding required for a support worker. If you need a support worker, that's fine. But if you need an Assistance Dog rather, then that should be too.
"I provided a quote to the NDIS of how much it would cost my care agency to provide a support worker to spend the same amount of time with me as my Assistance Dog. And it ended up being over $250,000. Yet my Assistance Dog only costs $4,000 to $5,000 per year."
– Tim McCallum
The NDIS seems much more willing to fund Assistance Dogs as guide dogs and hearing dogs. After all, why force someone who's blind or deaf to choose a support worker when they can benefit from living an independent life thanks to an Assistance Dog?
Why isn't the same logic then applied when someone who's paralysed and makes use of a wheelchair could also benefit from a service dog? Having a loyal and highly skilled dog support you is widely believed to be more dignified than having to rely on another person.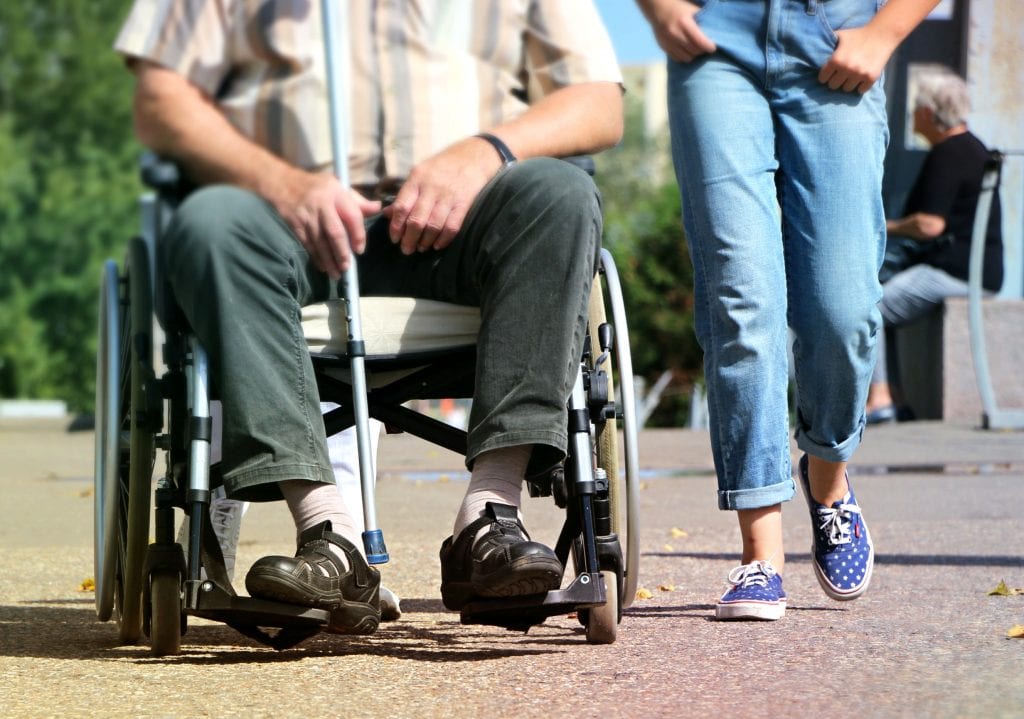 Independence and dignity are basic human rights
Tim challenges anyone from the NDIS to have someone follow them around waiting for them to drop a remote, need a door opened or press a button in a lift for you in the shops. "Let them just follow you around for 24 hours and see how comfortable you feel about having someone hovering, waiting for you need them," he says.
This would make sense if it was the only available option or the best option. But in certain situations, the NDIS could be funding Assistance Dogs for people who know they can better maintain their independence this way.
Sometimes you just want to be on your own. I want to remain an independent person without the help of another person. If I could do these things by myself I would, but I can't. And I should as a basic human right have the choice as to who or what actually helps me do it.
– Tim McCallum
As Tim says, "If it's a piece of technology or equipment required to maintain independence, then that can be funded. If it's a human (personal support worker), that can get funded. But for some reason Assistance Dogs don't, or at least don't most of the time. The NDIS is so reluctant to fund Assistance Dogs for physical disabilities (and Autism)."
Informal supports vs Assistance Dog support
Informal supports also aren't the best route, because that means relying on family, friends and neighbours to be there for you whenever you need it. It means losing your independence while also taking those people away from their lives.
Tim says, "Not only do I get the physical support from my dog that I need to stay independent, but it also comes with a wagging tongue and a happy tail. He's always ready, willing and happy to do the task at hand. And we have such a great bond."
Here's another great video of Tim and his dog Roxie:
NDIS funding applications
We already know that an Assistance Dog can be one of the most cost effective supports. What about the NDIS argument that there isn't enough evidence to show they can also be the best fit for the job?
Tim shares what evidence he includes when applying to the NDIS for Assistance Dog funding: "My main goal was to remain as independent and possible in every facet of my life from family, employment, accommodation and community access."
"So my initial tier of goals was very broad. Then in the next sub-section I outlined how one of these goals is to have an Assistance Dog help me with the physical tasks that I can no longer do myself. I included how this would help me to remain independent.
"I provided the evidence of my physical disability such as what tasks I can and can't do. For example, what I need help with and what I don't need help with. Then I shared how I would use the dog in these situations to remain independent and achieve my goals."
Clear evidence for NDIS, to no avail
Tim provided us with this list of what's included in his NDIS planning documentation:
Clearly outlined goals and how an Assistance Dog is necessary to achieve these
An occupational therapist functional assessment report in support of this view
Documentation from Assistance Dogs Australia providing professional evidence
Photographic and video evidence of Assistance Dog support
Tim's report was comprehensive, articulate and provided all the documented proof for how an Assistance Dog would help him reach a greater level of physical independence.
But, like countless others with physical disabilities, Tim's report was rejected.
He's seen other people get further along in the process. However, this can mean going on trial and having to justify in a court hearing how an Assistance Dog is the right solution for NDIS funding.
Australian regulation of policy around assistance dogs
Tim feels that public regulation is one of the roadblocks preventing NDIS funding Assistance Dogs. "I believe our Australian policies and governance of service dogs in Australia isn't helping the situation," he says.
"Because right now, with the current way the Disability Discrimination Act is written, it's very easy for just anyone to get a dog. You can carry a doctor's letter to say that it's there to be your aid. And you can buy a dog jacket online. I don't think that gives the NDIS much confidence to approve all Assistance Dogs."
NDIS should trust accredited assistance dog organisations
However, the accreditation process for an Assistance Dog is watertight.
Even after breeding, selection, and years of specialised training to prepare an Assistance Dog, there's then a strict accreditation process. Not every dog makes it to the accreditation process, but those that do still have to redo the tests every year.
"I belong to Assistance Dogs Australia and my dog is accredited every year with its appropriate tests. And I don't get the licence if my dog doesn't pass these tests each year. My licence allows me to go into the shops, onto public transport, on and off planes. This accreditation is recognised worldwide and yet it's still not recognised by the NDIS.
– Tim McCallum
Tim adds that "Perhaps the Commonwealth regulations around how to recognise legitimately accredited Assistance Dogs needs to be tightened. Then the NDIS can fund them more confidently."
"For example, I've got the Assistance Dogs International accreditation and the Guide Hearing and Assistance Dog accreditation in Queensland. These two accreditation cards should be evidence enough."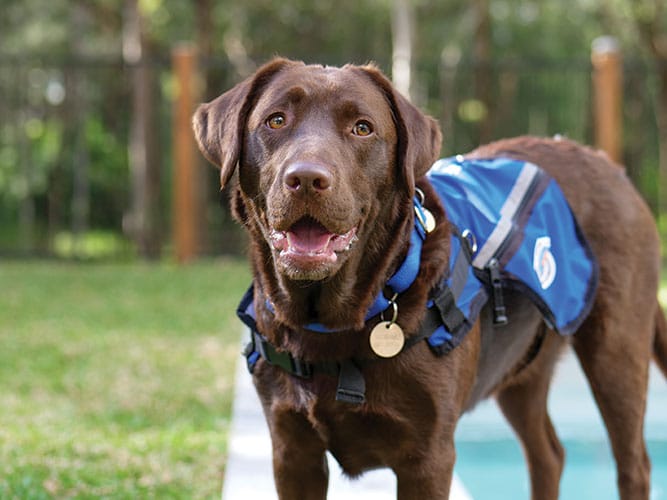 Assistance dog accreditation is done by international standards
Assistance Dogs Australia is overseen by Assistance Dogs International, which sets the global standards for accreditation. That means it's legitimate, recognised and trustworthy.
As Tim says, "The accreditation process means we've done the tests to prove the dog successfully completes the tasks I need it to, according to international standards. The accreditation is also proof that the dog is well behaved and safe in the community and won't be of any harm to me."
"So I believe that with the right regulations and if you can prove the organization is accredited that should be trust enough for the NDIS. It indicates the dog's been well trained and will be well-cared for by the participant. As an NDIS participant, the health and safety of your Assistance Dog would be a priority. Just as it would be to care for a wheelchair the NDIS funds. How are these different?"
"With recognised accreditation, everything's been put in place. This means they don't have to do so much of their investigation. And it also means we don't have to prove as much of the reasonable and necessary supports component."
Assistance Dogs Australia's contribution
Currently Assistance Dogs Australia pays for all its Assistance Dogs to be raised and trained, before being given at no cost to people in need. The cost for each dog from go to whoa is roughly $40,000.
The non-profit organisation funds all its operation costs – breeding, dog welfare, training etc. from donations and generous community and corporate support. Because of this there's a long waiting list, one that's also been lengthened by COVID-19. With additional funding Assistance Dogs Australia would be able to raise and train more Assistance Dogs.
Read about our sponsorship with Assistance Dogs Australia, which is helping the cause.
A new way for the NDIS to fund assistance dogs
An Assistance Dog spends its first two years of life in training, after which it works an average of eight to 10 years. But as Tim has experienced in the past, your dog could take ill. This means that it could be with you for a shorter time than expected.
If the NDIS paid for your Assistance Dog, there's still no guarantee it will be there for you for a maximum of 10 years. Tim says there's a possible solution for this. And that's for the NDIS to be a part of the funding of the entire dog's life on a year-by-year basis, instead of once-off.
Criteria for continued funding would include the Assistance Dog passing its annual accreditation tests. Unlike a wheelchair that the NDIS funds outright on its purchase, NDIS could fund an annual fee for the provision of a trained and accredited Assistance Dog rather than fund the total cost of the trained dog. This could work easily work with Assistance Dogs Australia's existing fee structure.
Protecting Assistance Dogs with insurance
Why does your dog need pet insurance? So many reasons. But essentially, you want to protect your best friend and helper.
On the topic of Assistance Dog insurance, Tim says, "It's that one time you need it that you are so glad you invested in it. It means I don't have to make a decision like letting the dog go because I haven't got insurance. And it means my assistance dog is going to be able to be looked after with the right care…
I just feel like Assistance Dog insurance gives you such huge peace of mind.
– Tim McCallum
"It's about the safety of my service animal. And it's part of my responsibility of owning an Assistance Dog. Because having insurance means I'm making sure that he's looked after. After all, I've been given this wonderful gift and I want to look after it."
Blue Badge Insurance offers a discount of up to 25% on Assistance Dogs insurance and up to 15% off pet insurance for other companion dogs and cats. This helps cover non-routine vet visits, medication, surgery, hospitalisation and many more healthcare needs your dog may experience.
Click below to start today.