Judging by the overwhelming number of Australians following and commenting on online support groups for Guide, Hearing and Assistance Dogs, many are in need of Assistance Animals. Although the NDIS does provide funding for Assistance Animals, these groups are awash with people whose applications are being rejected.
It seems these rejections are happening despite reasonable and necessary fulfilment of criteria.
To understand the situation in more detail, Blue Badge Insurance has looked into the NDIS funding criteria for Assistance Animals. For starters, the NDIS appears to apply a distinction between Guide Dogs and some other types of Assistance Dogs. Let's begin by looking at this point in more detail.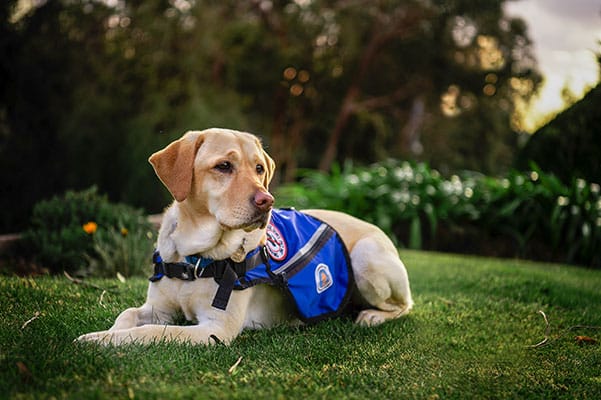 Assistance Animals might not all be the same to the NDIS
To the NDIS, not all Assistance Animals are deemed as reasonable or necessary as each other. Guide, Hearing and other Assistance Dogs aren't always evaluated the same way.
According to Assistance Dogs Australia, it's likely Guide Dogs get funded more easily than other Assistance Dogs"largely because public perception of and legislation around mental health has over the last decade had to play catch up with disabilities whose effects are more easily identified, such as vision impairment."
Looking at the criteria and case studies, Guide Dogs are more likely to receive funding than Assistance Dogs for autism, for example. In our interview with Tim McCallum he explains how Mobility Assistance Dogs often aren't funded either.
What's the real difference between Guide, Hearing and other types of Assistance Dogs anyway?
Guide, Hearing and other Assistance Dogs: what's the difference?
Assistance Dogs (ADs) is an umbrella term for dogs that are trained and certified through a dog PAT test to assist a range of disabilities. Whether you need a Guide Dog, Hearing Dog, Autism Dog or a dog for PTSD, these are all types of Assistance Dogs.
But when it comes to NDIS funding, it seems like Guide Dogs – Assistance Dogs for vision impairment – are the main type of Assistance Dogs that secure funding.
What needs to change for the NDIS to fund more ADs? According to Assistance Dogs Australia "once we see societal and legislative change, NDIS funding will follow suit. The NDIS is a relatively young initiative, and it will undoubtedly take some time to fully encompass all forms of disability and all methods of supporting people with disabilities."
We can't say why or how the NDIS divvies up and allocates Assistance Animals funding. But to get a little more perspective we've done a simple breakdown of the case studies provided and their outcomes.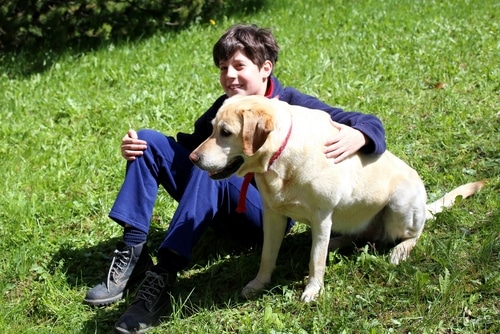 NDIS case studies for funding Assistance Animals
The NDIS outlines three case studies for funding Assistance Animals:
| | | | |
| --- | --- | --- | --- |
| Case Study | Disability Type | Outcome | Link to Case Study |
| 1️⃣ | cerebral palsy | "could fund" | Case study one |
| 2️⃣ | Autism Spectrum Disorder (ASD) | "doesn't meet our funding criteria" | Case study two |
| 3️⃣ | severe vision impairment | "support is approved" | Case study three |
Each case study includes a different list of information that might go into the NDIS planning report. In general the explanations for why one case study receives funding and another doesn't seem subjective.
Reasons used include the cost of an Assistance Dog vs the cost of other supports. The NDIS cites the benefits of Assistance Animals vs other types of supports too. But for the people who know they would benefit from having an Assistance Dog, these explanations often don't quite match reality.
For example, in the interview with Tim McCallum we mentioned earlier, he shows how the cost of an Assistance Dog tends to be far lower than other supports. But the applications are still routinely rejected on this basis.
It's not entirely clear what steps NDIS participants can take to improve their chances of receiving Assistance Dog funding. However, Assistance Dogs Australia shares that "the assumption is Assistance Dog funding applications would be weighed against the applicant's NDIS goals and whether the use of an Assistance Dog can help them achieve those goals. For example, would a dog offset the use of a human, or could a dog do something for the individual that a human cannot?"
It costs more than $40,000 to provide one qualified Assistance Dog
Blue Badge asked Assistance Dogs Australia if there are any alternative funding options for Assistance Dog funding alternatives to the NDIS.
The charity shares the following: "Assistance Dogs Australia provides dogs to clients at no cost to them. ADA receives no ongoing funding and relies instead on public donations, philanthropy, and corporate sponsorship. Some clients can offset the costs associated with their dogs through their insurance; for example, if it's part of Workcover, or veterans through DVA. Other organisations will, for a fee, train a person's existing dog to be an Assistance Dog."
Each dog costs more than $40,000 to raise and train. Donations such as our sponsorship with Assistance Dogs Australia make this possible.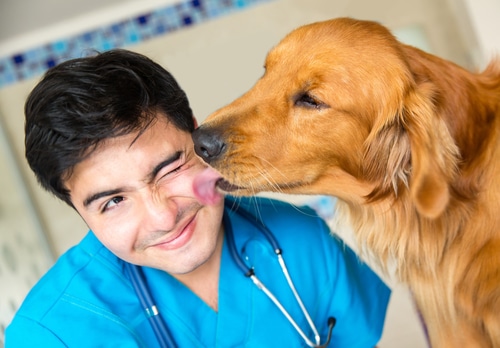 Health insurance for Guide, Hearing and other Assistance Dogs
Even after receiving an Assistance Dog, clients need to cover the ongoing costs of homing, feeding and taking care of their animal. These costs can be big if it's injured or sick and needs surgery or an overnight vet hospital stay.
For those who get the much needed support of NDIS funding for their Assistance Animals, having Assistance Dogs insurance is a valuable safeguard. This is a plan that helps cover costs for many expected and unexpected animal health care costs.
Blue Badge Insurance offers a discount of up to 25% for Assistance Dogs insurance. Click below to get a quote today.