Australia has an ageing population, with the percentage of people aged 65 and over having increased from 4.6% in 1922 to 16.2% in 2021. A 2022 World Health Organisation report estimates one in three of us will need assistive technology in our lifetimes, ranging from glasses and hearing aids through to communication devices and mobility scooters. And with more disability scooters comes more mobility scooter safety risks.
Your mobility scooter is a vital part of your independence. But like any other vehicle it can cause or be involved in accidents, especially if it's not driven safely or properly. So, let's explore what the dangers are of this cleverly designed transport equipment and how you can reduce the likelihood of getting into a scooter accident.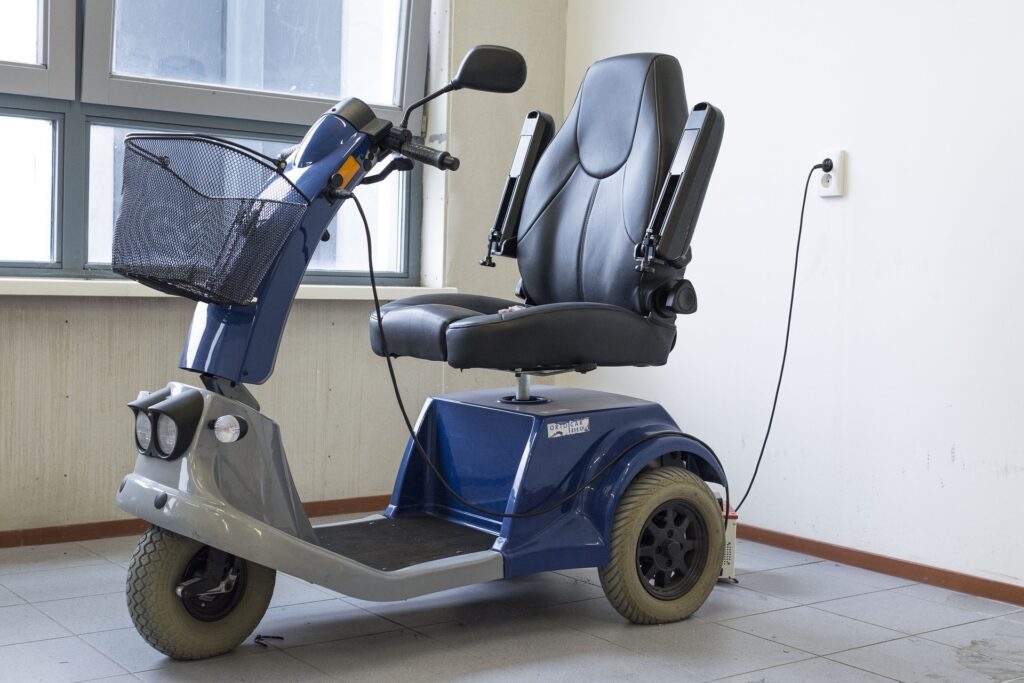 Mobility scooter safety – the issues
For all the good they provide, one of the main problems associated with the influx of mobility scooters in Australia is the resulting accidents and injuries.
According to a study by the Australian Institute of Health and Welfare, in 2011–12 and 2015–16 there were 4,500 hospitalisations due to mobility scooter-related injuries. Many of these injuries were caused by falls, collisions with objects or other vehicles, or the mobility scooter tipping over. Fall injuries have increased for older Australians aged 60 and over—from about 200 to about 500 each year.
Inadvertent misuse
Another problem is the misuse of these disability scooters. Some individuals use them on roads and highways, which can be dangerous and illegal. Others may drive them on footpaths at high speeds or park them in unsafe locations, causing hazards for other pedestrians.
Many mobility scooter users in Australia are elderly and experience age-related issues such as impaired vision and hearing, dementia and more. This can impact their scooter mobility, i.e. their ability to operate the mobility scooter safely.
Infrastructure issues
Finally, there are infrastructure challenges associated with mobility scooter safety in Australia.
Footpaths and other areas where mobility scooters are used may not be designed to accommodate them. Obstacles such as uneven surfaces or narrow pathways can be hazardous. Further, there may be insufficient signage or other safety measures in place to alert motorists and pedestrians to the presence of mobility scooter users.
Mobility scooter safety – the rules
In Australia, you don't need a license to drive a mobility scooter and you also don't need mobility scooter registration. This is largely because users of mobility scooters are considered pedestrians. Mobility scooters aren't vehicles, however there are still certain rules that apply
Each state and territory has its own rules and regulations. In Victoria, for instance, mobility scooters must have a maximum speed of 10km/h on level ground and weigh no more than 110kg without the user or luggage on board. Over in Tasmania, the maximum speed is also 10km/h, and a mobility scooter cannot exceed a maximum power output of 200 watts.
6 fast facts on national rules
Here are some basic mobility scooter safety rules that apply right across the country:
| | |
| --- | --- |
| (1) | Only people who have a disability or experience difficulty walking should use mobility devices. |
| (2) | Wheelchairs and scooters should be speed limited to 10km/hr on level ground. |
| (3) | People using mobility devices are classified as pedestrians and must follow the same road rules as other pedestrians. |
| (4) | Mobility equipment must not be driven on the road if there is a footpath or nature strip available. |
| (5) | It is illegal to ride a scooter or wheelchair when under the influence of drugs or alcohol. |
| (6) | Wheelchairs and scooters do not require registration unless you live in Queensland. |
Find out which Australian road rules and regulations for mobility wheelchairs and disability scooters specifically apply to where you live. Find out what applies to you below: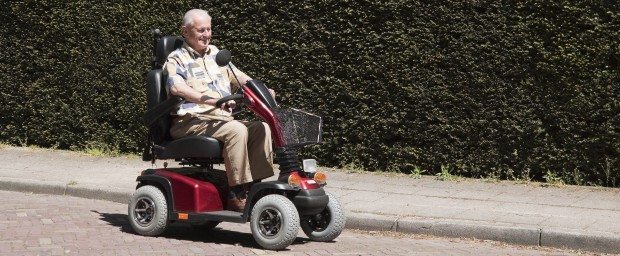 Staying safe
Our tips for keeping safe on your scooter is valuable reading. Here's what you need to know:
Wear protective gear
The number one mobility scooter safety rule is to wear a helmet. It can protect your head from injuries in case of an accident and can even be lifesaving. Other gear such as elbow and knee pads are also useful.
Observe speed limits
Always follow speed limits, especially when traveling on a footpath or in crowded areas. The maximum speed limit for a mobility scooters is 10 km/h but adjust your speed down if you're in a crowded or narrow area.
Avoid rough or uneven terrain where possible
Disability scooters are designed for use on smooth surfaces. Avoid using them on rough or uneven terrain such as stairs or unpaved surfaces, as much as you can, as this can cause accidents. If you do traverse uneven surfaces frequently, make sure you have the most appropriate tyres and the most appropriate scooter for doing so.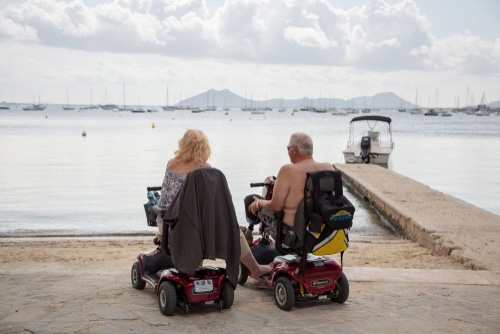 Be mindful of pedestrians
When using a mobility scooter, always be mindful of pedestrians, especially in crowded areas. Give pedestrians the right of way and slow down when passing them.
Stay visible
Make sure other vehicles can see you, especially when riding on the road. Use reflectors, lights, or bright clothing to make yourself visible to other motorists. Here's how to be more visible on a mobility scooter.
Keep your mobility scooter maintained
Regularly check the brakes, tyres, and other components of your mobility scooter to ensure they're in good working condition. This will help prevent accidents and ensure your safety while using the mobility scooter. Check out our tips on how to maintain your wheelchair or scooter as well as our article: 'Mobility Scooters – Keeping Them Clean'.
Use designated areas
Only use disability scooters on designated areas such as footpaths, bike paths, or roads where allowed.
Take a safety course
Consider taking a safety course to learn how to safely operate a mobility scooter. This can be especially helpful for first-time users and those with limited experience.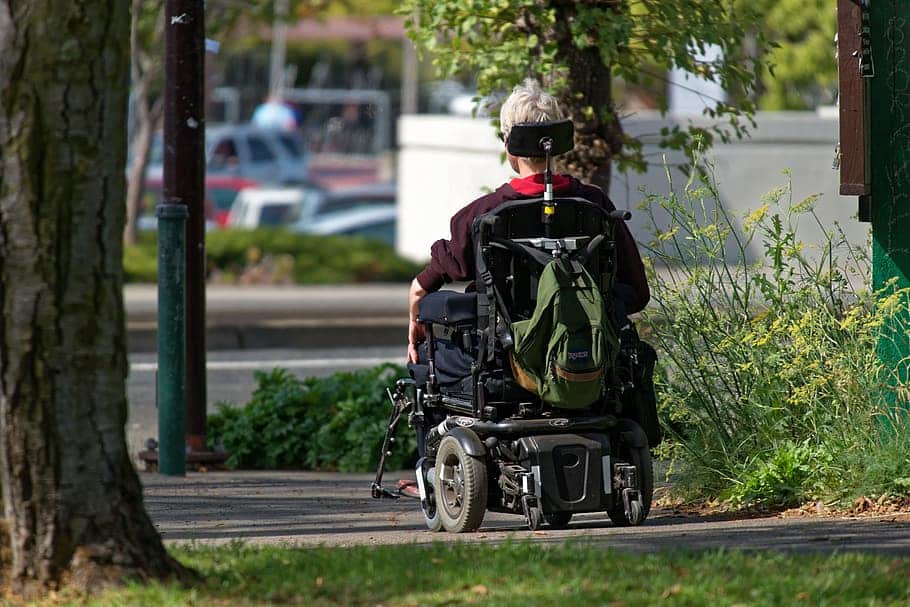 Specialised insurance for mobility scooter safety
We hoped we've helped you learn more about the growing issue of mobility scooter safety. At Blue Badge Insurance, we understand how important your scooter is to your independence. This is why we've created a series of unique features and benefits in our policy specifically for mobility equipment users. This includes cover for third party injury and property damage, loss or damage by theft, fire, flood or vandalism, costs to get you and your equipment home after an accident, and more.
You can find out more here – Comprehensive Mobility Scooter Insurance Policy and Comprehensive Wheelchair Insurance Policy.
Also know that we offer certain discounts. At the time of writing, if you hold a disability parking permit (DPP) you can get up to 25% off our disability car insurance. Or if you have an Assistance Dog you could get 25% off our Assistance Dogs insurance. If you have a therapy animal or pet your DPP can also get you 15% discounted pet insurance with Blue Badge.
Click below to get a quote today.