Wheelchair sports are not only brilliant for participants in keeping active, healthy and connected – for those of us on the other side they're fascinating to watch. In our article on Activate Inclusion Sports Days for kids, CEO of Disability Sports Australia, Murray Elbourn, says inclusive sport is not an end in and of itself. Rather it's a vehicle for inspiring self-esteem and empathy.
Wonderfully, when it comes to one's disability and ability, there's an inclusive sport to suit almost anyone. From solo and relaxing to fast paced team sports, it's about what suits your temperament and physique.
In this article, Blue Badge Insurance looks at eight different types of wheelchair sport. Take a look.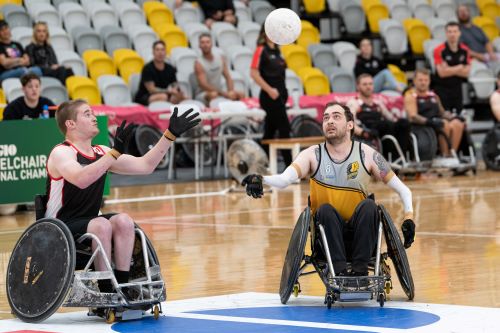 #1 Wheelchair rugby, an adrenaline sport
Wheelchair rugby is an adrenaline-pumping, full-contact team sport played on a basketball court using specially designed wheelchairs. Originally named 'murderball', it's not for the faint-hearted!
The goal is to carry the ball across the opponent's goal line while players use wheelchairs equipped with reinforced bumpers to block and tackle opponents. This super-charged wheelchair sport promotes upper body strength and team dynamics.
"Australia is really going through a Renaissance of wheelchair rugby."
– Chris Nay, General Manager for Wheelchair Rugby Australia
We interviewed Chris Nay, General Manager for Wheelchair Rugby Australia, on the National Wheelchair Rugby Championships a while back. Find out how to get involved via Wheelchair Rugby Australia.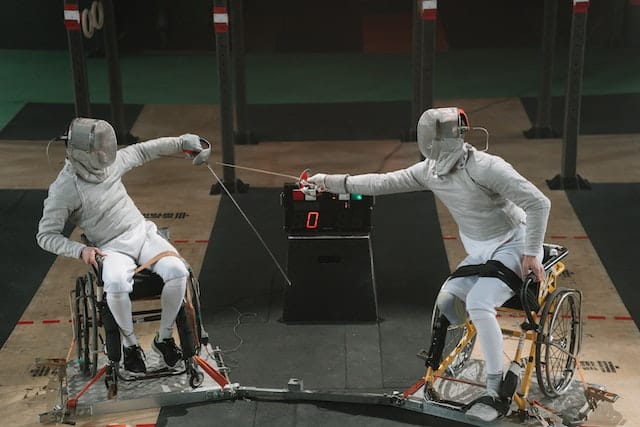 #2 Wheelchair fencing, for steely nerves
Wheelchair fencing is a one-on-one combat sport, making it a great option for those who prefer not to participate in big teams. This inclusive sport uses wheelchairs that are securely fastened in place so players can fence from a fixed point.
Wheelchair fencing uses fencing swords, whereby players score points by striking their opponent in intense duels. This wheelchair sport requires strategy, precision, agility and quick reflexes and is played at the Paralympics.
Find out how to get involved in wheelchair fencing, here.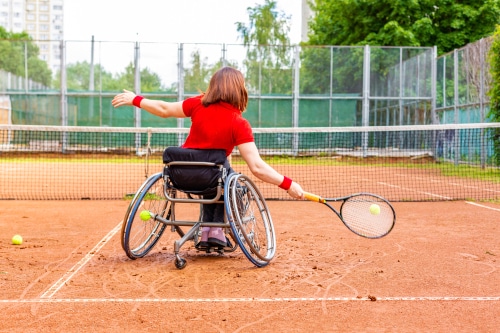 #3 Wheelchair tennis, for singles or doubles
Wheelchair tennis has many homegrown heroes. Think of Dylan Alcott, Daniela Di Toro, Heath Davidson, David Hall and Branka Pupovac just to name a few. While we're talking tennis celebs – read our interview with Alcott about his disability led company, Able Foods.
Like several wheelchair sports, wheelchair tennis mirrors traditional tennis. It's a great one-on-one sport you can play in singles or doubles. Players use customised wheelchairs and, as you can imagine, need to move fast, keeping the ball in the lines and hitting it back over the net.
This inclusive sport has major health benefits, helping keep your heart healthy. Get involved here.
#4 Wheelchair racing, a speedy sport
Wheelchair racing is a speedy and competitive sport. The goal is reaching the finish line in the shortest time possible. This inclusive sport requires a specialised custom wheelchair, designed to help you be more streamlined and reducing the likelihood of toppling.
Although it's a solo sport, you're on the track with several others with the wind on your hair. In terms of getting a cardio workout, this is wheelchair sport at its best. It's also great for building and maintaining upper body and core strength. Get involved in wheelchair racing here.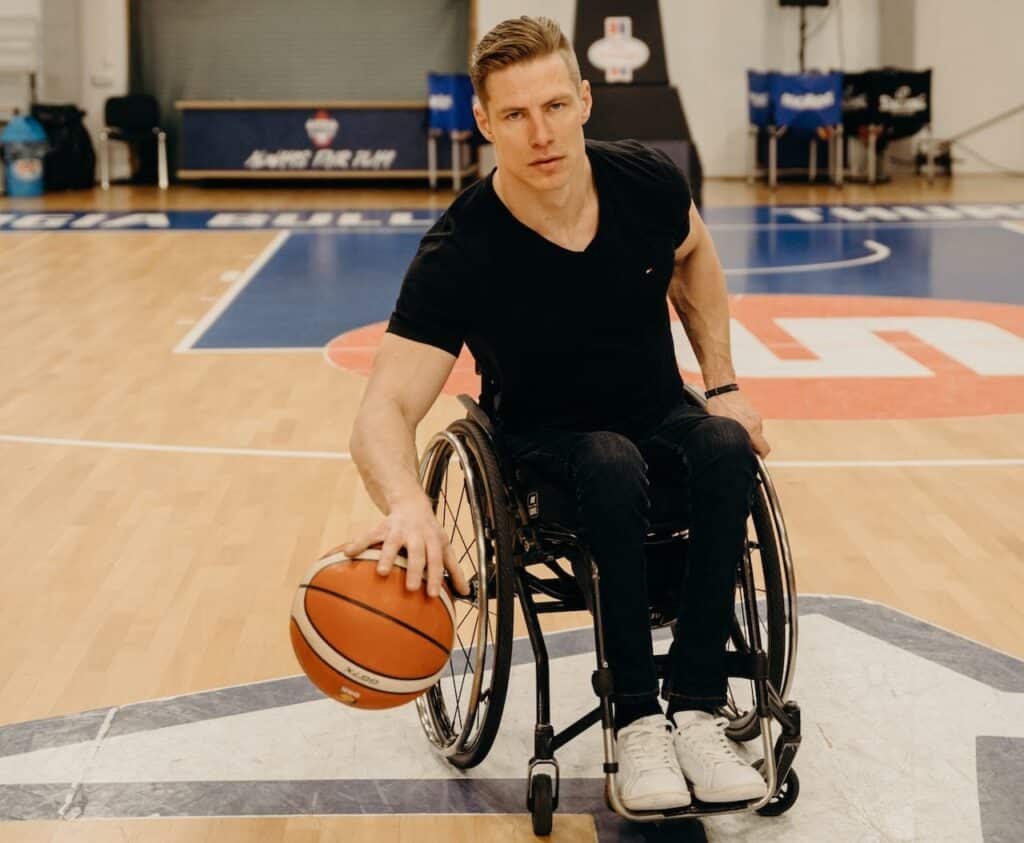 #5 Wheelchair basketball, a team sport
Wheelchair basketball is wonderful for people who love team sports. It typically needs five players a side, so there's lots of on-court action including fast-paced wheelchair and ball skills as well as teamwork and camaraderie.
You play this inclusive sport on a regulation basketball court. Players depend on and support one another, working with quick paced strategy to shoot the ball through the opponent's hoop. Get involved in wheelchair basketball here.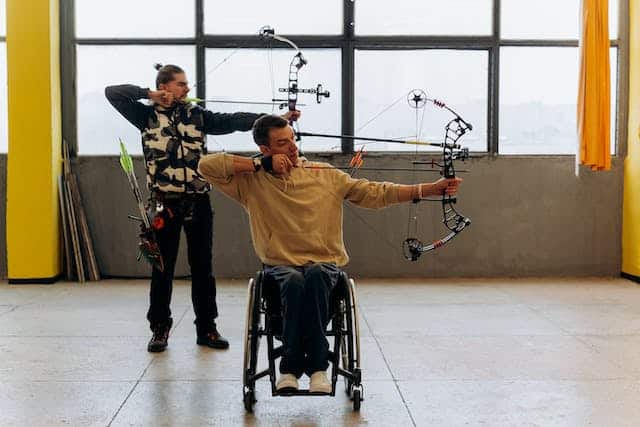 #6 Wheelchair archery, a solo sport
Wheelchair archery is a lot like traditional archery because you needn't adapt your bow, arrow and target. The same goes for your wheelchair – you don't need to use a custom one to play this wheelchair sport.
This solo sport is great for focus and uses enhances upper body strength and coordination. Your target has 10 rings and you shoot with the intention of hitting the golden bullseye in the centre from a distance of 90 meters away. This is the same for traditional Olympic archery.
Also, hitting any of the rings wins you points. The outer ring is worth one point and it steadily increases to 10 points for the bullseye.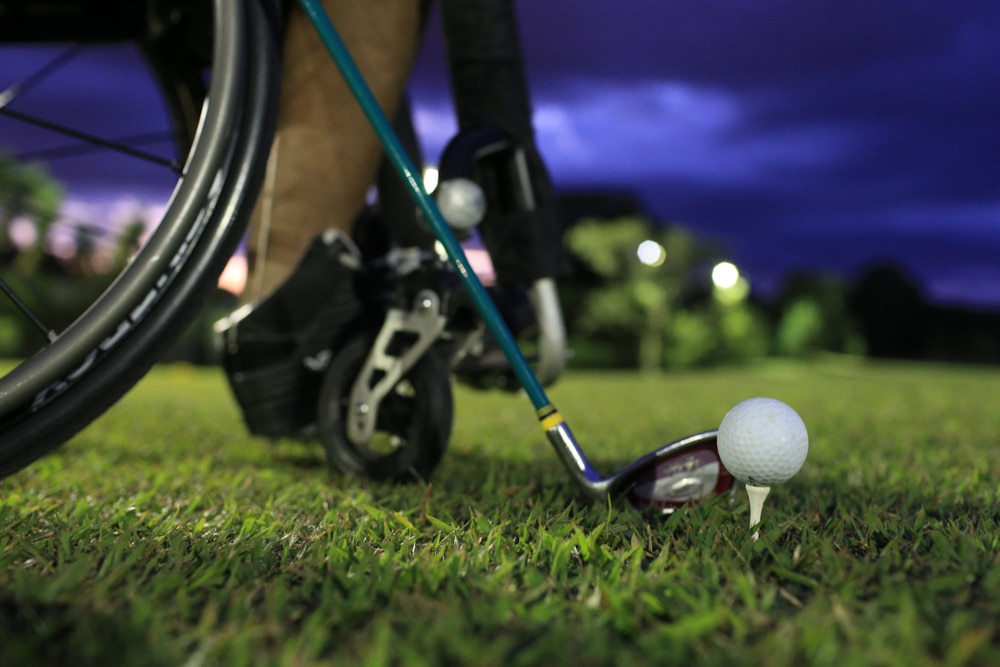 #7 Wheelchair golf, a meditative sport
Wheelchair golf is for those who enjoy having time to zone out and think during their sporty activities. It's an inclusive sport that adapts the traditional game, using specially designed wheelchairs that help you play in a standing position.
You play this relaxing wheelchair sport individually or with a caddy, making it versatile. While the goal is to hit the ball into a series of holes, you also get the added benefits of levelling up your coordination while improving upper body strength.
Find out about the Wheelchair Golf Championships and about exploring playing this sport here.
#8 Wheelchair AFL (AKA Aussie Rules)
AFL Wheelchair is a dynamic adaptation of Australian rules football. It's another wheelchair sport that's played on a basketball court because the smooth, flat supports speedy wheelchair manoeuvres.
Besides the environment of the playing field, another adaption is having five players a side rather than 16 to 18. All the passing and scoring is done by hand.
Find out where to get involved in this inclusive wheelchair sport, here. Then watch this video to see wheelchair AFL in action:
Getting involved in inclusive sports
As you can see, there are several benefits to playing sport. Here are some key points to remember:
Wheelchair sports benefits. The short term goal is of course having fun playing the sport itself. The long term benefit is great health and potential connections with people that are teammates and friends. There's also the lasting feeling of strengthened self-esteem.
Beginners and pros. As you read about different types of wheelchair sports, remember that everyone begins somewhere. There's no need to feel daunted about starting. These wheelchair sports cater to all levels of participating from entry or beginner to pro. Of course, cheering players on is also vitalising.

Young and old. There are a wide range of wheelchair sports (we've only skimmed the surface) to suit young and old. Read about disability inclusive sports and recreation options that the NDIS can fund. Also read about what's available when it comes to kids adaptive sports.
Wheelchair sports equipment. Are you wondering about the costs of playing and using specialised equipment? No need to worry. Wheelchair sports clubs offer custom wheelchairs and other equipment so there's no need to invest upfront.
On that last note, let's talk about your very own mobility equipment.
Do you have wheelchair insurance?
Do you have wheelchair insurance? What if someone steals your chair or you damage it? Insurance doesn't cost much and helps cover the costs to repair or replace your wheelchair. As Australia's first disability and independence insurance specialist, Blue Badge knows how valuable your mobility equipment is. That's why we offer affordable, quality mobility scooter insurance too.
Also, with a valid disability parking permit you can get as much as 25% off car insurance for wheelchair accessible vehicles and disability converted cars. You don't need to drive a modified car for our discount; find out about getting up to 25% off disability car insurance too.
Click below to get a quote.