A 2022 study by Paralympics Australia found 75% of Australians with a disability want to take part in some sort of sporting activity but feel as though their opportunities are limited. The same goes for children living with disability. Step in, adaptive sports for kids like boccia, goalball and specialised athletics.
These inclusive sports allow kids with varying mobility levels to take part. They're growing in Australia in terms of numbers and interest, so there's never been a better time to get involved.
Two big questions are: what sports can kids living with disability play and how do we inspire them to take part?
Kids adaptive sports – what's out there?
There are many benefits of getting a child living with disability into sport – among them is building their physical skills, social connections, and self-confidence. Whether they're living with a physical disability and use a wheelchair or other mobility aids or have an invisible disability, the below adaptive sports may pique their interest:
Wheelchair basketball
If your child is in a wheelchair, they may be interested in this fast, full-contact sport that's all about coordination and strategic thinking. It can be played by children with different types of disabilities, including spinal cord injuries, cerebral palsy, and amputation.
Wheelchair basketball is very much a team sport, which can be both fun and challenging. It may be an opportunity for your child to connect with others who share similar experiences, challenges and passions.
Wheelchair Sports NSW offers junior wheelchair sports programs, including basketball, rugby, and tennis.
PS: Find out what you should know about children's wheelchairs.
Boccia
A precision ball sport similar to lawn bowling, designed for those with cerebral palsy or other physical disabilities. Boccia can be played by children with severe impairments, who play either solo or in teams of two or three. They use a ramp or their hands to roll the balls towards the jack, with each player taking turns to throw their balls.
Boccia provides children the opportunity to participate in a competitive sport, improve their physical abilities and coordination, and develop their social skills. Contact Boccia Australia to find out about programs in your area.
Adaptive snow sports for kids
Adaptive sports aren't just limited to summer sports. Skiing, snowboarding, and other snow sports can be adapted to accommodate your child.
Adaptive skiing and snowboarding equipment includes sit-skis, bi-skis, and mono-skis, which are designed to provide support, stability, and manoeuverability for individuals with different types of disabilities. Contact Disabled Wintersport Australia to find out about their programs for kids.
Wheelchair tennis
Wheelchair tennis is a great adaptive sport for kids living with disability as it promotes physical activity, social interaction, and can be played solo or as a team. The wheelchair used has specific adaptations, such as anti-tip devices and adjustable seat heights, so your child is safe and confident when they play,
Get in touch with Sporting Wheelies and Disabled Association for more info. They offer wheelchair tennis, among other sports programs.
Swimming
Water has always been a wonderfully freeing space for those with limited mobility – which is why swimming is often used as a form of physical therapy. It can be a low-impact adaptive sports activity for kids that can improve cardiovascular fitness, muscle strength, and endurance, and can also enhance motor skills and coordination.
With the help of specialised adaptations and equipment, such as flotation devices, pool lifts, and ramps to get in the water, you child can enjoy all the benefits of swimming.
Contact Swim Coaches and Teachers to find out about coaches who have training in working with kids living with disability.
Goalball
This is a team sport specifically designed for those with visual impairments. It involves two teams of three players each, who try to score goals by throwing a ball that has bells inside it into the opponent's goal. Children must rely on their sense of hearing to locate the ball. Tactile lines are marked on the court and goals to let players feel them, and they're made to make a noise upon contact with the ball.
Goalball provides a fun and inclusive opportunity for kids with visual impairments to take part in a competitive sport. Contact Goal Bowl Australia to find out about their youth boy and girl teams.
How do I encourage my child to take part in adaptive sports?
It's a big step for anyone to try something new, especially if their disability makes them feel less confident (happily, not the case for everyone!). Urging your child to try a new sport needs to come from a positive and loving place. Here are some tips to interest them in adaptive sports for kids:
Inspire them
Presenting them with something aspirational and exciting might light a fire in them. Show them videos of kids with disabilities doing adaptive sports and highlight the physical and social benefits in their own words. Adult sports people like Invictus Games star James French are impressive, but kids can relate better to 'kids like me'.
Explore different options
Present a range of activities for your child to choose from. Maybe wheelchair basketball isn't their cup of tea, but boccia is right up their alley. Let them understand that it's all up to them and what they like. Read about Disability Sports Australia's Activate Inclusions Sports Days – a year-round events program for kids between the ages of 5-18 years to easily try out various different adapted and inclusive sports.
Find a supportive community
Look for local sports programs, community organisations, or support groups for families that have children with disability. Connecting with other families and kids with disabilities can provide young people with a sense of belonging and motivation to take part in sports.
Make it fun
Emphasise the fun and social aspects of sports rather than the competition involved. Encourage your child to participate in activities with friends or family members to make it a fun and social experience.
Be positive and supportive
Celebrate each accomplishment no matter how small they may seem. Focus on their abilities and what they can do, rather than their limitations.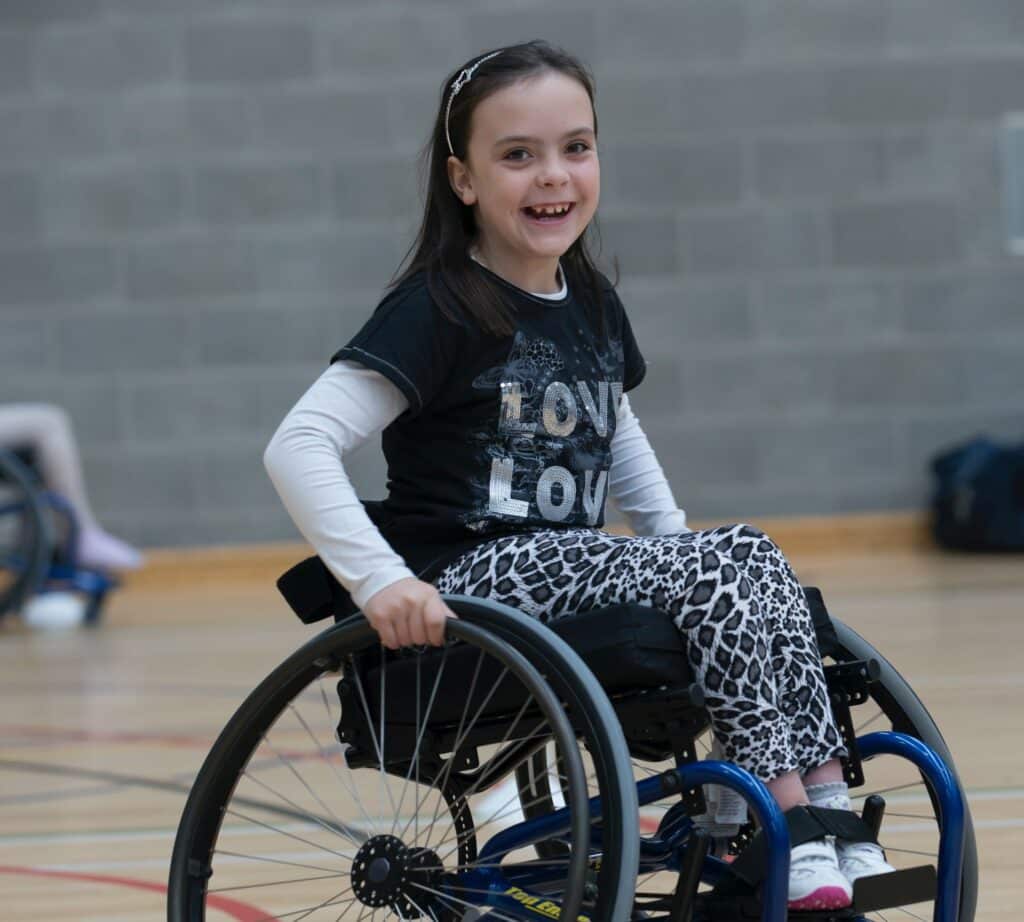 Australian adaptive sport programs for kids
Besides those listed above, there are other organisations and programs that provide equipment, support and a community for kids living with disability to get active. We've listed some below:
Disability Sports Australia
Offers a range of programs and events, including athletics, swimming and cycling.
Variety – the Children's Charity
Provides adaptive bikes and other equipment to help children living with disability participate in sports and physical activities.
Special Olympics Junior Program
Runs sports programs and competitions for children with intellectual disabilities, including basketball, swimming, and athletics.
Riding for the Disabled Association of Australia
Provides horse-riding and equestrian programs.
We've plenty more info for parents and children living with disability:
Insurance for your child's wheelchair
Whether playing adaptive sports for kids like basketball or boccia, having their own mobility equipment can be life changing for your child. You wouldn't want them to be without the mobility and independence they afford for any length of time.
That's why it's important to seriously think about wheelchair insurance. This will help safeguard your investment and get your child back on their wheels again quickly. You might even find the NDIS covers the cost of your children's wheelchair insurance. Contact Blue Badge Insurance if you have any questions.