If you're a wheelchair user thinking of travelling, then wheelchair travel insurance is a must. The world still has a long way to go to be travel friendly for wheelchair users and those living with disabilities. But, headway has been made in some areas – and having an amazing travelling experience is possible.
You've just got to look at these wheelchair travel blogs or this list of the most accessible cities in the world to be inspired.
Before you pack your bags and land on foreign soil, let's talk a bit about wheelchair travel insurance.
Why wheelchair travel insurance is crucial
Your wheelchair is one of your most valuable assets – a key to your mobility and independence. What happens when you crack a fender or bend an armrest while away from home, let alone overseas? Or worse, if you're in an accident and your wheelchair is damaged beyond repair?
Wheelchair theft is also not uncommon, so read our tips to help prevent your wheelchair being stolen. Then seriously think about safeguarding your wheels.
A wheelchair is a highly expensive piece of equipment that's not easy to replace. You may have insurance already on it, but that's not to say you'll be insured if you decide to travel.
Getting comprehensive wheelchair insurance that covers travel is vital before you set off on your big adventure. Otherwise you could be left stranded. If you're comprehensively covered by a company like Blue Badge Insurance, we'll ensure you get back on a roll as quickly as possible.
We'll even help you and your chair get home after an accident – even if you're on the other side of the world!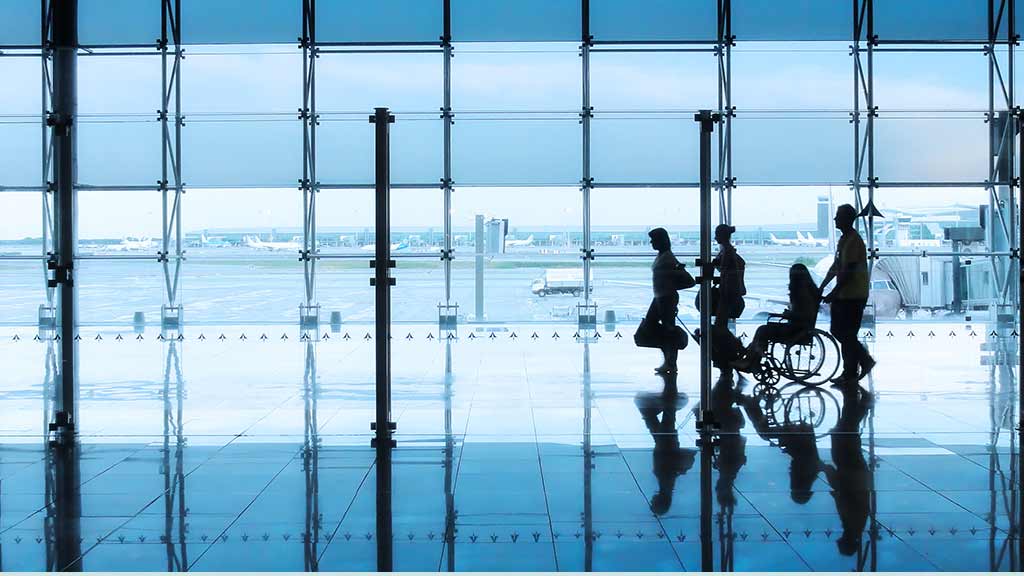 Wheelchair travel insurance with you in mind
We've been around many years as a disability equipment insurance specialist so we've seen a lot of precarious situations. We know what frustration and heartache a damaged wheelchair can cause.
That's why we automatically cover your wheelchair for accidental damage and third party liability for the first 21 days of overseas travel (excluding third party liability in the USA and Canada). Thereafter, you can extend the period of cover for an additional fee.
We also repair or replace a damaged wheelchair or a chair that's been lost or damaged due to theft, vandalism, fire or flood. Plus, we do new for old replacement for wheelchairs up to two years old.
Our insurance cover extends to $50,000, based on market value.
Blue Badge Insurance is different from other wheelchair travel insurance providers in our offering of third party property damage cover and personal injury cover. And you'll find ultra-valuable our promise to cover the costs incurred to get you and your wheelchair home following an accident.
Remember that we also cover manual wheelchair accessories such as power wheels, rear power assist, add on hand bikes and third wheels.
Travelling can be stressful, but having the peace of mind that your most valuable asset is insured will make it less so.
When you take out wheelchair insurance that covers travel as well, be sure to ask the right questions. Here are six questions you should ask before you get wheelchair insurance.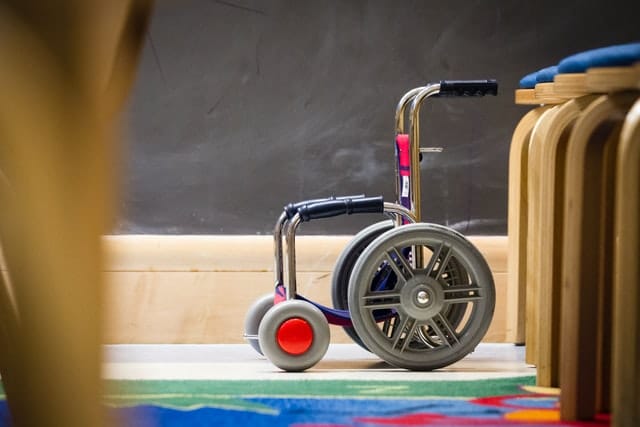 Wheelchair travel tips
Travelling with such an essential piece of equipment can be nerve-wracking. You'll want to plan ahead as much as possible to avoid and hiccups or worse.
Hopefully the following tips will help make your trip with your wheelchair smoother.
Enquire ahead across all touch points
Expecting the best and planning for the worst is the way to go when travelling with a wheelchair. If you leave things up to fate you could be rudely awakened. Don't be shy to contact your travelling touch points well ahead of time with your questions – whether it's the transport picking you up from the airport, your WAV hire provider, your accommodation host or your tour operator.
Apart from ensuring your accommodation is accessible, you'll want to do research on the sites of interest you'll be visiting. Are they easy to reach via your mode of transport? What are the on-site accessible facilities like? And once you're there, will you be able to navigate yourself around the site?
Also look into disability equipment supplies stores near your destination/s. If you need to grab some useful wheelchair accessories, for example, where will you go to find them?
Be wary of the terrain
Some wheelchairs can't handle rough terrain or cobbled and rutted roads. Try do so as much research as possible to find out what the paths to and around your desired site will look like. Your wheelchair travel insurance will cover you for accidental damage but the more you can decrease your likelihood of it happening, the better!
Enjoy others' accumulated knowledge
Again, wheelchair travel blogs, social pages and forums are indispensable in accessing shared knowledge. Here you'll be able to get a clearer picture of what your destination will look like and what to expect. The experiences of people who've already 'been there, done that' can help guide you towards a much smoother and enjoyable experience for yourself.
You'll likely find enthusiastic knowledge sharers who will gladly share their insights in answering questions you have in the lead up to your visit. You have to love the internet for crowd sourcing expertise across a wide range of topics.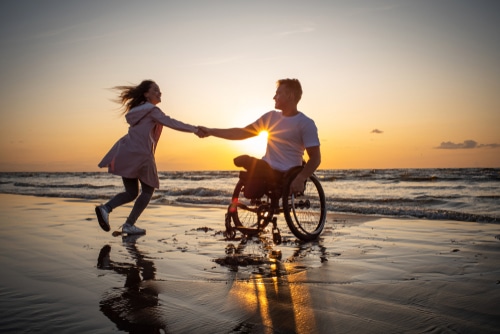 Pack extra essentials
It's difficult to predict when you might need to do a bit of wheelchair maintenance while on the go so pack things like a spare battery and inner tube for your wheelchair. You know your equipment best and which bits and pieces may need some attention while you're away. You may not have access to suppliers specific to your model that could help you at a moment's notice.
And just like your parent always said – pack for all seasons. You may expect sunny weather at your destination/s but what if there's rain here and there? What if the wind picks up while you're out and about? What's the temp going to be overnight – will your accommodation have powerful air con that cuts through any conditions?
If you're unsure then prepare for any eventuality – even just one outfit for each season, an umbrella, sunscreen and a blanket will go a long way. A comfortable trip is a much happier trip.
Read our guide on travelling with a wheelchair and travelling with a disability for more tips.
Thinking of wheelchair travel insurance? We can help!
As Australia's disability insurance specialists, we know how important your wheelchair is to your everyday life. That's why we offer year-round, cost-effective comprehensive wheelchair insurance that includes cover for overseas (and domestic) travel.
Why not get a quick quote?