Assistance Dogs support people with a diverse range of disabilities, both physical and psychological. For example, a PTSD dog supports a person living with post-traumatic stress disorder (PTSD) while other types of Assistance Dogs support people with limited mobility, autism and more.
Today we're exploring the magic of PTSD dogs to help celebrate Assistance Dog Week.
In this article, Assistance Dogs Australia (ADA) shares a client testimonial from John, a Vietnam veteran, whose PTSD dog, Yoda, helps improve his daily life.
What is PTSD?
PTSD is a mental health condition that can develop after experiencing or witnessing a traumatic event, or from prolonged or repeated exposure to traumatic events.
Ex-military personnel and members of the emergency services are frequently diagnosed with PTSD.
PTSD is a type of invisible disability that may not involve outward signs or obvious physical symptoms but still significantly impacts their lives.
Symptoms
Symptoms like flashbacks, nightmares and intrusive thoughts can trigger fear, anxiety, or an overwhelming sense of danger.
This makes daily activities challenging for sufferers and their families, often causing them to avoid specific situations or places, and leading to negative consequences such as social isolation and unemployment.
Read our guide to understanding PTSD, from symptoms to treatment and more.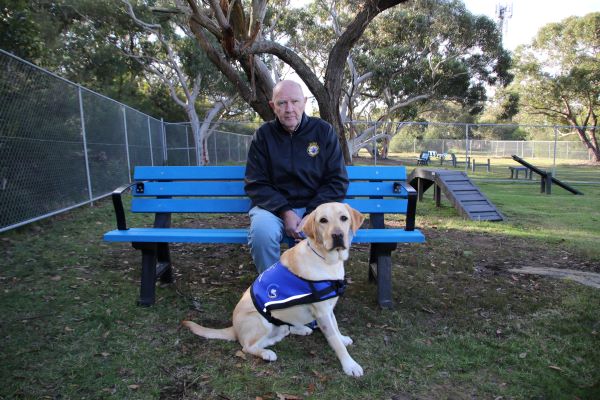 ADA provides PTSD Dogs at no cost to clients
Assistance Dogs Australia provides significant mental health support to clients with PTSD through the provision of PTSD Dogs.
During training, ADA's mental health clinicians teach clients how to utilise their Assistance Dog to regulate their emotional state and complete tasks that their PTSD may otherwise prevent them from doing.
One hundred per cent of ADA's PTSD clients report feeling safer, more positive, and having greater confidence in their abilities after receiving their Assistance Dog.
According to recent scientific studies, Assistance Dogs have been shown to create a "moderate-to-significant" decrease in PTSD symptom scores. Read more about how these dogs, also known as psychiatric Assistance Dogs, help people.
What is having PTSD like?
ADA client John is a Vietnam veteran who is living with PTSD. He also has chronic depression, anxiety, stress, and occasionally has panic attacks.
PTSD had taken its toll on John's life, making even the simplest daily activities a daunting challenge. He explains:
"I suffer from PTSD and it messed me around a lot. I was ending up in a psychiatric hospital about every 12 months for eight to nine weeks to settle and calm down."
"It was not unusual for me to go into a shop and have an anxiety or panic attack. I'd be halfway through the shopping and I would drop the basket on the floor and walk out.
I try to stay away from big supermarkets because that's where I had the problems, and it's due to people and noise."
How John's PTSD Dog improves his life
But everything changed three years ago, when John was matched with Yoda, a gorgeous yellow Labrador PTSD Assistance Dog. Yoda has become John's faithful companion and a source of strength and support, transforming his life in ways he never imagined possible.
"Since I've had Yoda, I haven't been in hospital in three years. I haven't walked out of a shop. Do I have problems still? Yes, but when I've got Yoda, he'll pick up on it. He'll tap the side of my leg with his nose and that's called the 'nudge'. Yoda distracts me and helps me get through it."
Yoda's presence has brought a newfound sense of peace and stability to John's life. His intuitive abilities and unwavering support have been instrumental in helping John navigate the challenges that come with his condition, and people around him have noticed the positive changes.
Yoda, the PTSD hero dog
"People have noticed that I'm more relaxed than I used to be, because if there was anything on, I wouldn't go," says John.
"With Yoda, he can come with me and I can use him and I don't get quite the same anxiety and stress attacks. I still get 'em. I mean, he's not a cure, but boy, he's close to it."
"I know I'm safe because he's there. Because I've been looking after myself for twenty-odd years, it took a little while to remember I had someone to depend on. And now I don't have to think about it – it's natural that I use Yoda."
Blue Badge Insurance in partnership with ADA
Blue Badge Insurance is a proud sponsor of Assistance Dogs Australia. It takes up to $60,000 to raise and train each Assistance Dog so that it can go to client at no cost to them.
Blue Badge donates a portion of every current policy we have every month towards this endeavour. Make your donation to Assistance Dogs Australia today. Your support could mean someone suffering from PTSD gets the dog they need.
Find out more about ADA's PTSD program. Once you've done that, read about some great ways to celebrate International Assistance Dog Week.
Protecting PTSD Dogs with Assistance Dogs Insurance
Assistance Dogs may be heroes, but just like everyone else, they can get sick or injured, too. Vet care can be costly. However, having Assistance Dogs Insurance is a great way to protect your finances and your dog.
Blue Badge Insurance offers up to 25% off Assistance Dog insurance. We also offer 15% discounted pet insurance for disability parking permit holders.

Click below to get a quote.