Arranging wheelchair hire in a pinch can be daunting. After all, your wheelchair is essential equipment that allows you to live more independently. You can't afford for there to be a big gap in time where you don't have the right chair at your fingertips.
Need a temporary wheelchair while yours is being repaired? Wheelchair hire for a specialised sport or activity? A lighter-weight chair for travelling? There are plenty of places that can help.
Further, there are several aspects you need to keep in mind before you commit. This is Blue Badge Insurance's guide to wheelchair hire; including what questions to ask, and where to find wheelchairs for hire.
Things to consider when booking wheelchair rental
So you need to hire a wheelchair, for whatever reason. Before you start phoning providers, ask yourself the following questions:
When do you need the chair by?
How long will you require it?
What will you primarily use it for?
Will it fit your wheelchair accessible vehicle or converted car, if needed?
Do you need an electric or self-propelled wheelchair?
What is your budget?
Right, those are the questions for yourself. Remember to also ask the appropriate wheelchair hire questions when you contact each provider you're researching. Yes, make sure you shop around for the right chair at the best value!
Check the following with each business:
Can you exchange the wheelchair for another one if it turns out to be unsuitable?
Is there a deposit and, if so, is it refundable?
Can you extend or shorten the hire period if necessary?
Do they offer delivery and pickup?
What happens if the wheelchair is stolen or damaged?
Will this hire wheelchair be covered by insurance? (like Blue Badge's wheelchair insurance)
Be sure to read the fine print before you book. This will tell you about any added fees, penalties, or "hidden" terms and conditions you might have missed.
Wheelchair hire by purpose
If you're looking to go to the beach, you might need to hire a beach wheelchair. These have tyres which are suitable for sand, and some of them even float. Of course, not all beaches have wheelchairs available for hire.
However, the accessible beaches website is a great resource which lets you know which beaches in your area do offer wheelchair hire. Read our detailed advice on visiting the beach with your wheelchair here.
If you're interested in wheelchair sports, you'll probably need an adapted chair. But obviously you don't want to splurge on a sports wheelchair while you're still testing the waters, so to speak. Most sport clubs can help point you in the right direction as to where you can hire a suitable wheelchair.
This way you can get an idea of what type of chair suits you best, as well as whether you like the sport itself. A great starting point is the disability sports Australia website.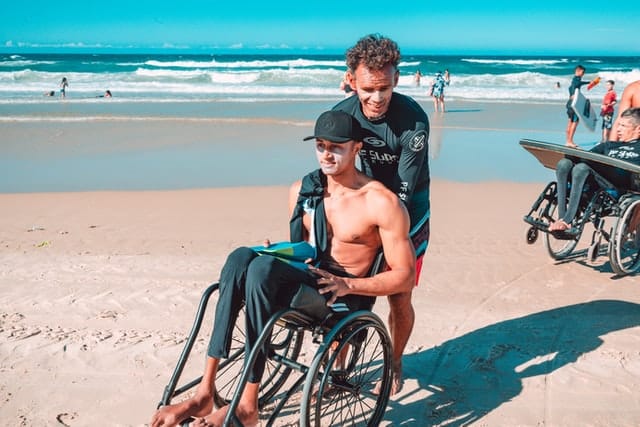 Wheelchair hire by area
Obviously, wheelchair hire is only useful if it's close by.
With that in mind, we've put together a list of resources which might help you find a rental supplier in your area. You'll also find a lot of chemists have basic wheelchairs for hire.
Queensland:
Victoria:
Western Australia:
New South Wales:
Northern Territory:

Tasmania:
Additionally, here is a document with many more wheelchair hire options in Tasmania, including those without websites.
South Australia:
You can also book wheelchair hire nationwide at Leef and across four states at Mobility Equipment Hire Direct. Read our tips on booking wheelchair accessible car hire too, just in case you're planning a road trip with your chair in tow.
Note that this isn't an exhaustive list, and you may well know of smaller, local suppliers. In that case, let others know by leaving a comment on our Facebook page.
Overseas wheelchair hire
Generally, it's recommended to take your wheelchair with you when travelling overseas (when we eventually get back to this). Why? Because it can be complex to organise wheelchair rental o/s for a number of reasons, including:
Language barriers
Lack of accessibility in some destinations
Itineraries which don't include major airports or hubs where you can hire wheelchairs
Restrictions on what you can do and where you can go with your hired chair
Consider that you'll probably be spending a lot of time in this hired wheelchair, especially if you want to cram in lots of sightseeing.
It'll be no fun if the wheelchair you've hired isn't the best fit for you, e.g., it doesn't have all the conversions or adaptions you need. You could find yourself frustrated, in pain, or unable to get around like you're used to.
Read more about travelling with your wheelchair plus have a look at some of these amazing wheelchair travel blogs. They'll help make sure you're prepared to jet off. COVID allowing, of course!
Wheelchair insurance
Did you know our wheelchair insurance automatically covers you for intrastate, interstate and overseas travel? So you can take your wheelchair along without fear of it getting damaged or lost.
And if you're a disability parking permit holder, you're eligible for up to 25% off your car insurance premiums. Because we know people with disability permit parking are safer drivers. Talk about good news!