Is it time to buy a new wheelchair accessible vehicle (WAV)? When searching for a vehicle that fits your needs you may come across one that has been imported.
An imported WAV is a vehicle that has been fully designed and manufactured to allow wheelchair access. Because of this manufacturing, these cars tend to be more affordable than converting a car locally. This is because costs can increase quite drastically once a base vehicle and conversion work are quoted.
It's important for you to discuss the suitability of an imported WAV versus a locally converted WAV with your Occupational Therapist and various suppliers. You want to ensure you get the car that is best suited to you and your lifestyle. It's also important to remember that while imported WAVs have been built for wheelchair access, many people still require additional modifications to be made to ensure they are suitable for their needs.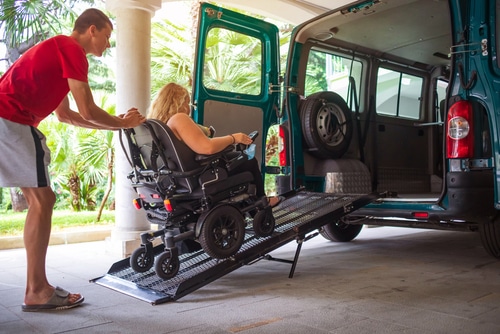 What Features Do Imported WAVs Have?
These vehicles offer many of the same benefits as cars locally converted. They are available in a range of models available to Australian buyers – allowing you to choose the accessibility, size, appearance and price that is ideal for your needs. Common features include ramps, lifts and hoists.
Will This Vehicle Meet Australian Standards?
If you're considering buying an imported wheelchair accessible vehicle, it's vital that you be aware that the car is fully compliant with all Australian standards (vehicle and its modifications). Otherwise, you may not be able to register or drive your new car.
We recommend you choose an importer that is registered under the Registered Automotive Workshop Scheme (RAWS). They can ensure that your vehicle meets Australian Design Rules (ADR's) compliance and safety procedures.
Three Things You Should Be Aware Of When Buying An Imported Car:
Make sure all disability conversions comply with Australian Standards.
Ensure the importer is experienced with WAVs so they can advise and guide you properly.
Request a certificate to verify your car's compliance.
 How Are These Cars Imported?
These wheelchair accessible vehicles are imported into Australia under the Specialist and Enthusiast Vehicle Scheme. The scheme is used to cover car clubs, sports cars as well as WAVs. This means that you and your importer must make sure that all disability-specific safety requirements are met. For instance, wheelchair restraints must be classified as safe to transport passengers not just cargo.
Learn More
You can learn more about imported wheelchair accessible vehicles and locally converted wheelchair accessible vehicles in our A-Z Guide on Disability Converted Vehicles. The FREE guide contains everything you need to know about buying, owning and maintaining a disability converted vehicle.
Want to know even more? Here are some must-read blog pieces on wheelchair accessible vehicles:
 Comprehensive Insurance for Disability Converted Cars
At Blue Badge Insurance we insure all types of wheelchair accessible vehicles as well as the disability conversions. Our Comprehensive Insurance for Disability Converted Cars has many benefits to give