Have you heard of the mobility allowance that helps people pay for accessible transport? This transport funding is for those with a disability that find it to use public transport. Having a mobility allowance means you can take an accessible taxi to get to work or school, the types of trips that are essential for independent living.
In this article, Blue Badge Insurance looks at eligibility criteria for the mobility allowance, what amounts are paid and how often. We'll also share info on the NDIS transport budget (different to the mobility allowance).

Scroll to find out more.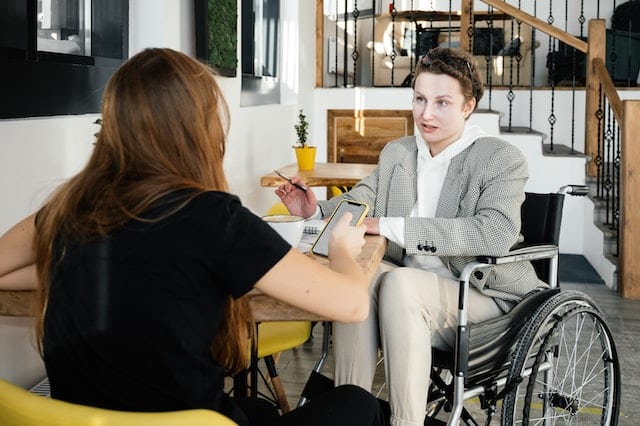 What is the mobility allowance?
As mentioned, the mobility allowance is a funding program that helps people who have a hard time using public transportation because of disability. It assists in paying for more accessible transport options so they can improve their daily living. This program is meant to make it easier for them to get to work, educational institutions or to certain locations when they're looking for a job.
The reason it's called a mobility allowance is because "mobility" is about movement or transport and "allowance" means a sum of money paid to help meet an expense.
This funding allocation is a social welfare payment you receive directly through Services Australia.
If you're an NDIS participant, then you can't apply, instead you must apply for NDIS transport funding, which we elaborate on further on. First, let's see what the eligibility criteria are for the mobility allowance.
Who is eligible for mobility allowance in Australia?
Now that you know the mobility allowance is for people who can't use public transport easily, what other criteria are there. Let's take a look:
Age and residency.
You're 16 years or older, live in Australia and are an Australian citizen or hold a permanent residence visa or a protected Special Category visa (SCV) from New Zealand.
Disability.
You have either a permanent or temporary disability that will make it hard to use public transport for at least 12 consecutive months.
Destination.
You use transport to get to work or school, or for job hunting or volunteer work. Your search for work needs to be via Workforce Australia or any specified employment services providers (check the list under the heading called "Option 2" to see what these are). There's also a minimum number of hours you need to be doing these activities to fulfill eligibility criteria, which we look at in the next section.
Medical approval.
To get a mobility allowance you'll need a doctor's medical report to confirm that you can't use public transport unless you already have one from your doctor stating you can't use public transport without proper support.

As mentioned, NDIS participants aren't eligible for the mobility allowance. If you're with the NDIS, you can request transport funding in your plan's budget. We'll let you know more about this further down.
How much is the mobility allowance in Australia?
In this section, we're looking at what the various mobility allowance rates are and how each transport budget is allocated.
The mobility allowance is paid fortnightly, meaning you receive it once every two weeks through Services Australia. There are two main rates ($109.30 and $152.80) a person can receive according to their eligibility criteria. Note these amounts are correct as at the time of publishing this article.
$109.30 every two weeks
For example, if you're training as an apprentice or student, working or volunteering for 32 hours a month on a regular basis, you'll likely be eligible for the standard rate of $109.30 every two weeks. This also applies if you're in the process of searching for work.
$152.80 every two weeks
There are two criteria to receive the higher rate. Firstly, you receive a disability support pension, job seeker payment, parenting payment, or youth payment. (This last one is for people between 16 and 21 years who temporarily can't work, or are looking for work, or studying part time and looking for work).

Secondly, you also work 15 hours or more a week at or above the minimum wage. Or, you're looking for work for 15 hours or more a week through specified providers or work 15 hours or more a week in the open labour market under the Supported Wage System. This excludes supported employment like Australian Disability Enterprises.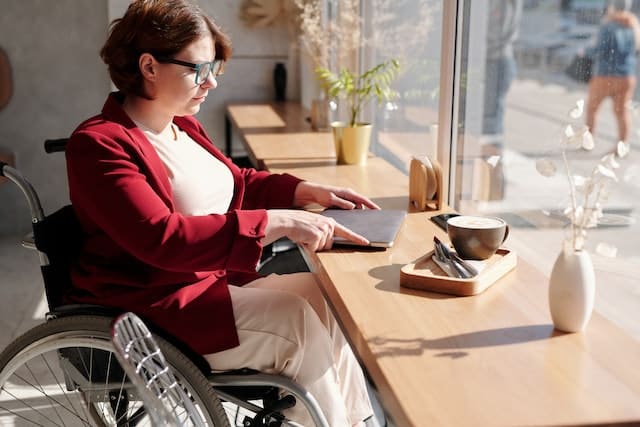 Applying for the mobility allowance
If you'd like to claim a mobility allowance, here are the steps to take:
prep your supporting documents.
Set up (if you don't have one or both already) your myGov account and Centrelink account and link them.
Sign in to myGov, go to Make a claim, choose Disabled, ill or injury, opt for Mobility Allowance, and follow the prompts to complete your claim.
If you can't do the previous step online, you can either fill out the Mobility Allowance form, contact the Disability, carers, and sickness phone line, or visit a service centre.
When you've completed this process, you'll get an application ID number together with confirmation it's been submitted. Look out for a message via your myGov inbox (or post box if you don't get electronic messages) letting you know if your applications been successful or not.
So, how is a mobility allowance different from NDIS transport funding? Let's take a look, next.
NDIS transport funding
Just like a mobility allowance, NDIS transport funding can be used for accessible transport. This too is for people who live with disabilities that make it substantially difficult to use public transport.
Importantly, you can't access both types of funding as this would be double-dipping on government funds. If you have mobility allowance and you then receive your NDIS support package, your mobility allowance will be automatically cancelled because you'll essentially be switching.
Just be sure to include transport funding in your NDIS budget if you'll still need it.
How much is NDIS transport funding?
NDIS transport funding comes in three different tiers (again, figures are current as at the time of writing):
One. To improve community access for people who aren't studying, working or involved in any kind of day programs. This tier is up to $1,606 per year (which works out to roughly $62 every two weeks).

Two. For people involved in day programs and other social, recreational or leisure activities. It's also for people working or studying part-time up to 15 hours weekly. In this tier, you can get up to $2,472 per year (roughly $95 every two weeks).
Three. If you're working, job-hunting or studying a lot and can't use public transport due to your disability, you can get up to $3,456 per year (roughly $133 every two weeks).
In exceptional cases, the NDIS sometimes awards more transport funding based on the situation. You can find out more detailed information in the downloadable resource at the bottom of this page.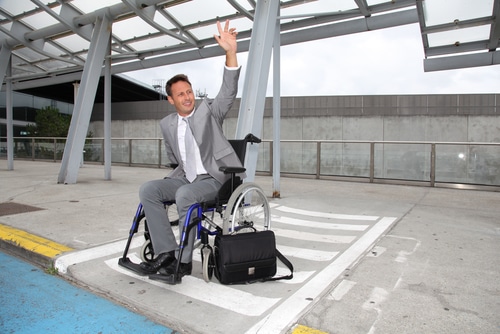 Using accessible taxis and transport in Australia
If you're in a position where public transport is ruled out, then you're probably looking at using accessible taxis or buying a modified car.
Blue Badge Insurance has put together an extensive list of helpful resources to support either of these options:
Now that you know what the mobility allowance and NDIS transport funding cover and where to get accessible transport, here's another solution.
Wheelchair and disability car insurance
Good news for those who have a modified car or drive a regular car with a disability parking permit (DPP)… If insure your vehicle with Blue Badge Insurance, you'll get up to 25% off our car insurance for wheelchair accessible vehicles and disability converted cars or our disability car insurance for those with unconverted cars.
This helps pay for a replacement of your vehicle if it's stolen, accidentally damaged or written off. Same as our mobility scooter insurance and wheelchair insurance does for mobility equipment.
Click below to get a quote for an insurance plan today.