As a senior, finding a mobility device that suits your needs can make a world of difference. Whether it's a rollator to use inside or a folding cane for your outdoor walks, mobility aids can improve your independence, safety, and overall quality of life.
In this blog post, we'll explore the options for seniors seeking reliable mobility aids. Whether you're a senior citizen yourself or their family/caregiver, you'll get an idea of what's out there.
Around 1 in 25 (3.7% or 89,000) people with disability aged 0–64 in Australia use aids like these listed below – we hope you find one that will empower you to move with more freedom and confidence.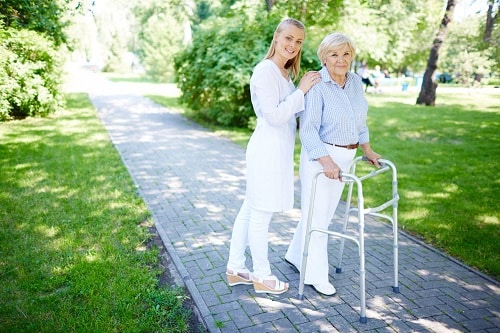 Mobility aids for indoor use
These devices will help you move around with more comfort in your home or other indoor spaces.
Walkers
Basic walkers consist of a frame with four legs and provide stability if you need extra support while walking. They're especially useful if you have balance issues.
Rollators
These mobility aids are walkers with four wheels, a built-in seat and brakes. Rollators give you similar support for whenever it's needed and you can sit on it for short rests. This video will help you choose the right one for you:
Wheelchairs
Whether manual or electric, wheelchairs can be ideal if you have limited mobility or get fatigue when walking long distances. They provide a seated option and a manual chair can be self-propelled or pushed by your caregiver or loved one. Electric wheelchairs are powered with electricity and come in various different models.
We have plenty of resources on choosing the right chair for you:
Electric scooters
Electric/mobility scooters are motorised devices that let you move around with ease. Certain models can be used indoors, while others are designed to be used outdoors. They feature adjustable speed settings, comfortable seating, and convenient storage options based on your needs.
Here are some great resources on finding the right mobility scooter for you to use as a mobility aid:
Stairlifts
Stairlifts are motorised chairs attached to a rail system that's installed along staircases, allowing you to move up and down. Depending on the model, they feature safety specs such as seat belts, footrest sensors, and obstruction sensors.
Sit to stand lifts
A sit-to-stand lift, also called a patient lift sling or standing hoist at times, can be useful if you struggle with standing up from a seated position due to mobility or strength issues. If you're a caregiver to someone with limited mobility, it can greatly assist in helping you get your patient into a standing position.
Power lift chairs
Also called a stand up wheelchair, these mobility aids are recliner chairs that can lift upward to help you transit from sitting to standing. They're especially useful if you have limited lower body strength. Read our comprehensive article that shares what you need to know about stand up wheelchairs.
Knee scooters
Knee scooters, also known as knee walkers, are an alternative to traditional walkers or crutches if you have lower leg injuries or surgeries. Here's some more info on how to use it:
Mobility aids for outdoor use
If your lifestyle includes outdoor walks, shopping trips or other activities, these devices will be able to make your experience easier:
Mobility scooters
Some electric mobility scooters are specifically designed for outdoor use. They provide stability, comfort, and ease of movement over various terrains, including on sidewalks and in parks and shopping centres. Outdoor mobility scooters typically have larger wheels and longer battery life compared to indoor electric scooters.
Power/electric wheelchairs
Power wheelchairs are motorised devices that allow you to move in outdoor environments independently. These popular mobility aids offer greater control and manoeuvrability than manual chairs, and some models can handle rugged terrain. Rear-wheel drive chairs, for instance, can go over sand, gravel, or dirt paths. They have larger wheels, suspension systems, and durable frames.
Or, you might find you prefer a combination. Read our Manual Wheelchair Power Assist: All the Must-Knows article.
All-terrain rollators
All-terrain rollators are similar to standard rollators but have larger, more robust wheels. These devices are designed to handle outdoor surfaces such as grass, gravel, and uneven terrain. They provide stability, a built-in seat, and brakes.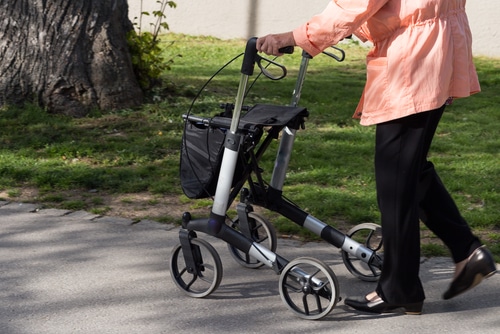 Folding canes
Folding canes are lightweight and portable walking aids for when you need occasional assistance with balance or stability. These mobility aids are convenient for outdoor use as they can be easily folded and carried when you're not using them.
Outdoor stairlifts
If you have an outdoor staircase or steps leading to your home, an outdoor stairlift can give you safe and convenient access. These motorised chairs are weatherproof and designed to withstand outdoor conditions.
Electric trikes, tricycles and skateboards
Electric tricycles with adult-sized seats are a great option if you want to maintain an active lifestyle and enjoy getting outdoors. They provide stability, balance, and a comfortable riding experience.
Also, are you aware that in NSW people with disability can now ride skateboards on public paths? read about it in our article: PWD Can Legally Use Electric Skateboards on Public Paths.
Insurance for your mobility equipment
If you rely on a wheelchair, mobility scooter or disability converted vehicle to get around, you know how valuable these mobility aids are to your independence. Blue Badge Insurance is a specialist in insuring mobility equipment and vehicles.
Check out our wheelchair insurance and our mobility equipment insurance, for starters. Why not trust the experts in disability-specific insurance, and contact us for a quote? Click below.