There have been numerous reports in Australia of stolen mobility scooters over the past few years, from homes, shopping centres and elsewhere. A thief can steal your scooter in less than 20 seconds. Unfortunately, like any object of high value, mobility scooters are on thieves' list of assets to sell for cash.
Just take this instance of a pensioner's mobility scooter getting stolen from her Sydney home. Or this instance of an electric wheelchair stolen in Adelaide.
There are plenty of reports of youngsters selfishly taking them for joyrides too. For example, this 2016 instance of a mobility scooter stolen and destroyed by joyriders.
As writer Anthea Scooter has said in previous articles written for Blue Badge Insurance: "Sometimes they are stolen for resale. But often they are just taken for joyrides and vandalised, leaving their owners unable to access their communities."
Alarmingly, many owners do not lock or secure their mobility scooters safely away from opportunistic theft. This happens particularly when they think they're only leaving it for a short time. However, as with any vehicle, it's always important to lock it to avoid deep regret over your stolen mobility scooter.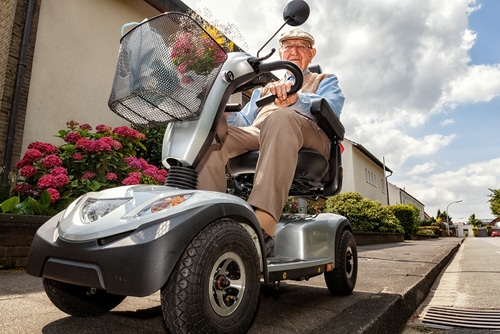 Steps to take to avoid stolen mobility scooters
There are some simple habits you can get into that will go a long way in preventing mobility scooter theft.
At home
Your scooter will probably spend most of its time parked at your home. It's important that you leave your scooter locked inside your property, or in a secure space outside it that's away from plain sight.
If this isn't possible, you can install a fixed anchor point and lock to safely secure your scooter. If your parked scooter is visible from the street it's also advisable to conceal it with a cover so it can't easily be seen. This will also protect it from weather events.
In the street
When you're out and about, always secure your scooter to a bike rack, railing or lamp post using a quality anti-theft device such as a chain, u-lock, padlock or immobiliser. Blue Badge Insurance has developed a mobility scooter lock that's a high quality anti-theft device designed specifically for mobility equipment. It's strong but lightweight and features a double-sided key, making it easy to use for elderly people and people with a disability.
Some scooters have a feature allowing owners to lock the steering. If you scooter has this feature, make sure that you always lock it when you park. It's also important to try not to make your scooter look too tempting to potential thieves. Don't leave any possessions or valuables on your scooter and always take your key with you.
Our top tips to avoid a stolen mobility scooter
So, in summary, you can reduce the risk of a stolen mobility scooter with the following steps:
Invest in a quality anti-theft device such as a chain, u-lock, padlock or immobiliser
Always lock your mobility scooter when not in use
When at home, store your mobility scooter in a secure space (preferably undercover) or lock it against an anchor point
When out and about, secure your mobility scooter to something immovable such as a bicycle rack, railing or lamppost and always park it where it can be seen
Lock the steering of your mobility scooter if it has this feature
Don't leave any valuables in the mobility scooter (including bags and baskets)
Our stolen wheelchair prevention tips will give you more food for thought.
Insurance to cover a stolen mobility scooter
Your scooter costs thousands of dollars and is a key part of your independence. Despite the best of precautions, Blue Badge Insurance still sees plenty of stolen mobility scooters. That's why proper insurance coverage is so important.
Our mobility scooter insurance will replace a stolen mobility scooter as well as your accessories or personal property that's stolen, lost or damaged from within it (up to a certain dollar amount). We'll even help you find a qualified repairer and pay for repairs directly, so you won't have to wait to be reimbursed.
We, like you, want to get you back on the footpath ASAP!