A stolen mobility scooter is a nightmare you don't want to experience. And it happens more often than you think. There have been numerous reports over the past few years of scooters stolen in Australia – from homes, shopping centres and elsewhere. Without a mobility scooter lock, a thief can steal your scooter in less than 20 seconds.
Unfortunately, like any high value object, your mobility equipment is on thieves' list of assets to sell for cash.
Take this 95 year old from Brighton whose mobility scooter was stolen from the nursing home garage, this grandfather in Adelaide who had his mobility scooter stolen from his own garage, and this Furnissdale grandmother who had her scooter stolen in one of three mobility scooter thefts in the area.
There are plenty of reports of youngsters selfishly taking them for joyrides too. For example, this 2016 instance of a mobility scooter stolen and destroyed by joyriders.
As writer and disability advocate Anthea Skinner has said in previous articles written for Blue Badge Insurance: "Sometimes they're stolen for resale. But often they're just taken for joyrides and vandalised, leaving their owners unable to access their communities."
So, let's look at how you can lessen the chance of your prized asset being stolen or vandalised.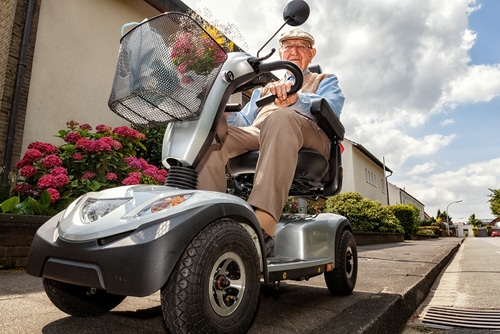 Steps to take to avoid stolen mobility scooters
There are some simple habits you can get into that will go a long way in preventing mobility scooter theft. We list seven of them below…
#1 Get a proper lock
Alarmingly, many owners don't lock or secure their mobility scooters safely away from opportunistic theft. This happens particularly when they think they're only leaving it for a short time. However, as with any vehicle, it's always important to lock it up to avoid a stolen mobility scooter and the regret that comes with it.
It's understandable to think a lack of keys provides a theft deterrent, but most scooters can be placed in neutral and rolled away.
That's why it's important to get a separate lock as for safety. There are several types of locks available, including cable locks, U-locks, padlocks and chain locks. Look for one that's a high quality anti-theft device designed specifically for mobility equipment, something strong but lightweight. See if you can find one of these that also features a double-sided key, making it easy to use for elderly people and people with a disability.
Anchor it well and always take your key
Once you choose a lock that's difficult to cut or pick, attach it to a sturdy anchor point in your garage or property. When you're out and about, be sure to secure your scooter to a bike rack, railing or lamp post.
Some scooters have a feature allowing owners to lock the steering. If you scooter has this feature, make sure that you always lock it when you park. And of course, always take your key with you!
The below video shows e-scooter locks in Australia that will work for mobility scooters, too:
#2 Make it less visible
A mobility scooter stolen from someone's home is more common than you think.
When you're at home, park your scooter out of sight, preferably in a locked garage or patio that's out the back of your property. If you don't have access to a garage it's advisable to conceal it behind a wall or with a cover so it can't easily be seen.
This will also protect your scooter from weather events. Read more about better protecting equipment longevity by keeping your mobility scooter clean.
#3 Install an alarm
Consider installing an alarm system that will sound if someone tries to tamper with and/or steal your mobility scooter. There are several options available, including ones with motion sensors, sirens, or other types of digital alerts.
Consult with a mobility scooter expert or professional installer to ensure that the alarm is installed correctly and doesn't interfere with the normal operation of your scooter.
You may even want to install a simple sensor camera on the front of your home. Ring cameras are one popular brand that are affordable and easy to set up.
#4 Consider a tracker
There are various GPS tracking devices in Australia that can be installed on your mobility scooter. These devices use cellular or satellite networks to transmit the location data of your scooter to a central monitoring system.
Not only will a GPS tracker allow you to locate your scooter in case it gets lost or stolen, but it can track your movements for safety purposes and give your loved ones peace of mind by allowing them to monitor your location remotely.
Some mobility scooter manufacturers may offer GPS tracking as an optional feature or accessory, but there are also third-party GPS tracking devices that you can try. These devices may require a monthly subscription fee for the tracking service, so it's important to research and compare different options to find one that suits your needs and budget.
You might even hide something as simple as an Apple AirTag on/in your mobility scooter. They cost around $50 at the time of writing and involve a simple set up on your phone.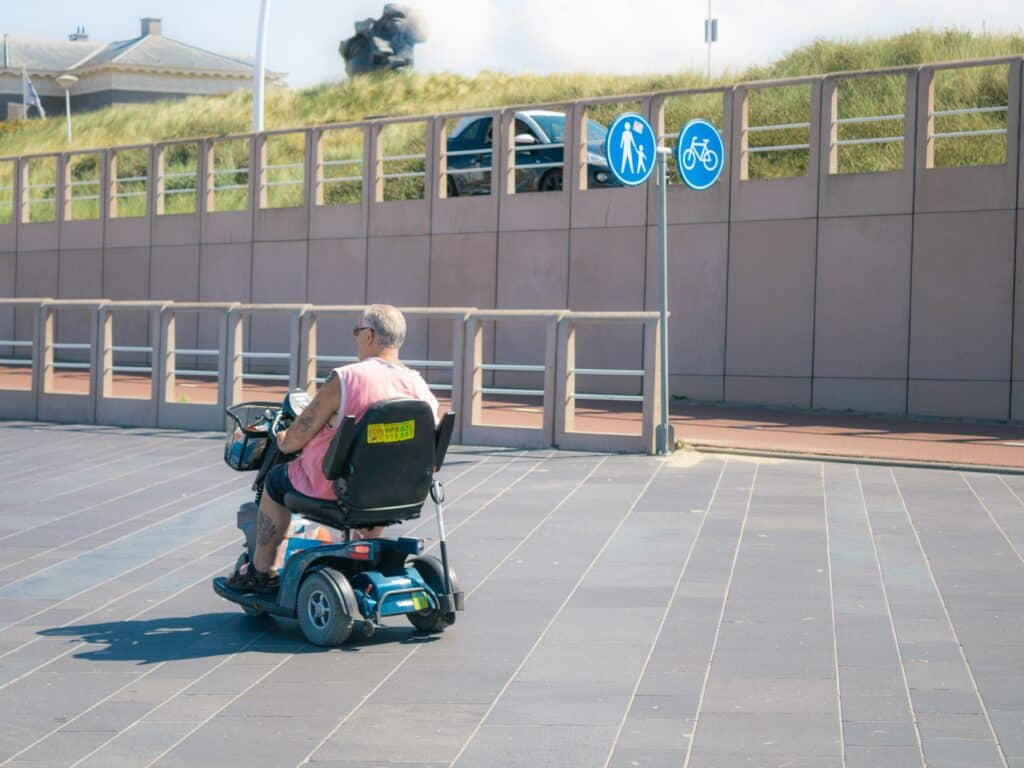 #5 If you're in Queensland …
Mobility scooter registration isn't mandatory unless you live in Queensland, where you need to register it at a Department of Transport and Main Roads Customer Service Centre (read more about this here). The good news is that registering your scooter with the transport authority can help deter theft and aid in recovery if it's stolen.
If you don't live in Queensland you can still take steps to improve the chances of the police finding your mobility scooter if stolen. For example, record the make, model, and serial number and keep this information in a safe place, and take a photo for future reference.
Just in case you're curious about the laws surrounding needing a valid driver's licence for your scooter, you can read our article: Do you need a license to drive a mobility scooter?
#6 Remove your belongings
Don't leave any valuables such as bags and baskets in your scooter; this will just make it more enticing for thieves and could quickly lead to a stolen mobility scooter.
Nothing much more we need to say on that one!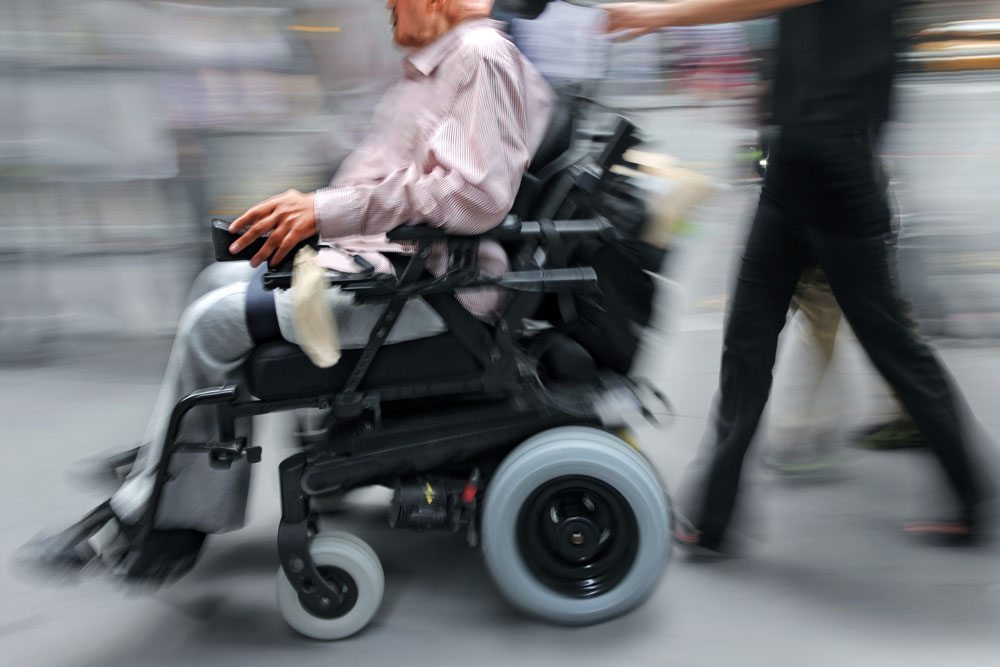 #7 Make your scooter easily recognisable
Bumper stickers or custom paintwork is one way to give your mobility scooter character. The other advantage is that it makes it easier for police to identify, and thus harder for thieves to sell. Again, make sure you take a photo of your scooter in case you ever need to provide it to the authorities.
Our stolen wheelchair prevention tips will give you more food for thought, as will our article on wheelchair accessories that are suitable for improving your scooter too.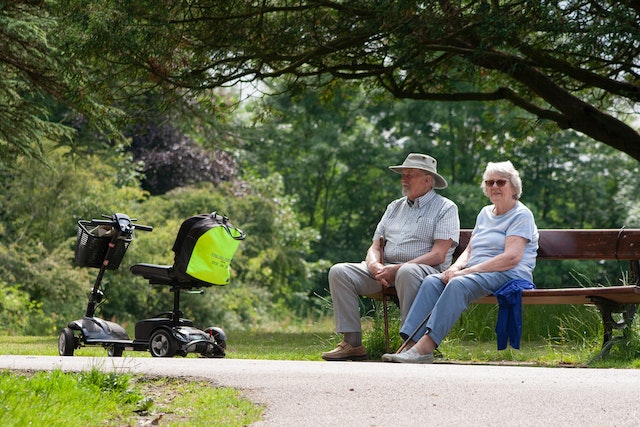 More scootering goodness
Check out these additional useful articles in our Blue Badge Insurance blog:
Insure your independence
Your scooter costs thousands of dollars and is a key part of your independence. Despite the best of precautions by our customers, Blue Badge Insurance still sees plenty of theft. That's why proper insurance coverage is so important.
Our mobility scooter insurance will replace a stolen scooter as well as your accessories or personal property that's stolen, lost or damaged from within it (up to a certain dollar amount). We'll even help you find a qualified repairer and pay for repairs directly, so you won't have to wait to be reimbursed.
We, like you, don't want a stolen mobility scooter to curb your independence!