Is it this time of year that your Googling is filled with results for 'mobility equipment and assistive technology in Australia'? If a beloved friend or family member lives with disability then using holiday time together to buy useful equipment and assistive tech can be a wonderfully valuable bonding experience.
The disability equipment and other assistive technology available in Australia today is vastly improved from what it once was and the range is constantly expanding. Wheelchair and mobility scooter design updates are designed to enhance their support, reduce physical stress and be more ergonomic all round.
So, it's savvy to regularly review what equipment and other tech your loved one is using. There could be a newer, improved version that can assist them further.
And that's not all. There are a wide range of evolving therapies, accessories and services that can ease the challenges of living with a physical or cognitive disability.
Here are some top tips for your mobility equipment and assistive technology shopping list.
Buying assistive technology in Australia
With the advancement of software, technology and machinery better supporting people's needs, doing a bit of pre-shopping research will help set your course for the best buy. Whether you're shopping for yourself, a parent, or a child, here's a list of assistive technology in Australia (and more) this article covers:
Innovative assistive technology in Australia (rehabilitation, services, therapy, holidays and housing)
Mobility scooters
Wheelchairs
Smartphone assistive technology
Home delivery options (food and entertainment)
Wheelchair accessible vehicles and converted cars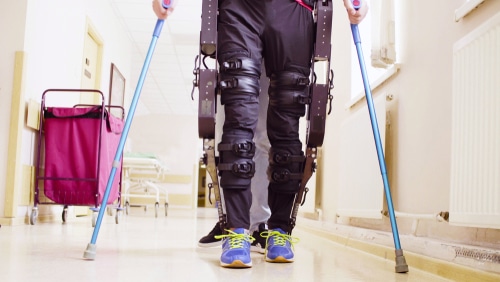 1. Rehabilitation, therapy, services and more assistive technology gift ideas
Not every gift can be boxed and wrapped. And with the broad range of mobility equipment and other assistive technology available in Australia, you might opt to buy mum, dad (or yourself) a service rather than a product.
Here are some great options:
Find out how this remarkable therapy may help people learn to walk again. Royal Rehab now offers this therapy using the ExoNR suit. The suit supports the wearer, adapting to their natural gait while and helping them to relearn how to access and build lower-limb muscle control.
Gift your loved one a session or several with an occupational therapist (OT). An OT can help someone decide which are the supportive aids or interventions to best support their independence. This may include helping you get your disability driver's licence or choosing the best assistive technology in Australia to suit your needs and goals.
Ongoing OT sessions can also be helpful, for learning about techniques and tools that make life a little easier.
Assistance dogs can perform a wide range of tasks, from opening or closing doors to emptying the washing machine and more. For anyone with limited mobility, having the support of an assistance dog can bring about greater levels of independence and dignity than if they had to rely on a support worker.
An assistance dog is a valuable gift that can be totally life-changing. There are many hoops to jump through before a handler can bring their dog home, but helping someone kick off the process and being there throughout is a wonderful gift. See our Assistance Dogs Australia page for more information.
From a houseboat or beach house to a forest retreat or farm getaway, we've put together a list of top wheelchair friendly and pet friendly getaways in Australia. Just click the heading above.
While this is not strictly 'assistive technology Australia', it's all about inclusivity and living life to the fullest. You might also be interested in reading about low maintenance pets and the physical benefits of owning a pet.
Imagine surprising mum or dad with the keys to an accessible house or apartment? Whether you're looking to rent or buy, find out how to ensure the place is well located, safe and accessible.
When you click the heading above you'll see we've given you the run-down of how to do your searches and what to ask agents as well as listings for where to find disability housing. Also be sure to read how to create an accessible home and universal design in housing.
2. Mobility scooters
If you, a friend or parent uses a mobility scooter you might be looking to buy a new one or revamp an existing one with some great accessories. We've put together the ultimate list of what to get and how to choose:
If you've put the love and time into buying yourself, a parent, or someone you love a mobility scooter or add-ons, you'll know the cost involved. This is why one of the best gifts you can give is mobility scooter insurance for protecting this valuable mobility equipment, to cover the costs of replacement or repair.
3. Wheelchairs
When choosing a wheelchair for yourself or a loved one, you want to be sure it's well suited to the person and their living environment. Mobility equipment mustn't be too wide to navigate the household areas and must provide tailored support for the user's mobility needs and safety requirements.
Read our comprehensive wheelchair guide to find out about different types of wheelchairs, wheelchair accessories and more. And if you're a parent, read about buying children's wheelchairs and other presents for children with disabilities.
You'll also be happy to know you can get wheelchair insurance that will provide cover of up to $50,000* (based on market value) to help cover costs of repair or replacement.
4. Smartphone assistive technology
Smartphone accessibility features provide ample support for physical and cognitive disabilities and come built into most phones. Many of us haven't tried them out yet, have only tried a few, or don't even know we have them.
Of course, the latest phones and operating systems feature the newest tech, so consider gifting your loved one with a new phone (or app) that offers great assistive tech. Then help them explore using it – you'll learn a lot too!
Here's a list of features to find on most new phones:
Sensory overload accessibility features
Accessibility features for visual impairment and blindness
Accessibility features for different hearing requirements
Adaptive smartphone features for physical disabilities
Virtual assistants
Check out more assistive technology innovations and these five everyday gadgets that are useful for supporting disability.
5. Home delivery services: Eating and entertainment
Food delivery services and popularity have more than doubled since COVID started. Ordering in can keep us safe while we stay socially distanced. And for people with disabilities, home delivery can also be more inclusive.
Read our article on home delivery meals and in-home entertainment to find out about:
Six great places to order ready-made meals and snacks from (that are healthy and tasty!)
Five options for ordering your own fresh ingredients (some tailor your ingredient kit to your selected recipes).
Five at-home entertainment options including limited free subscriptions to film, book and music streaming services.
6. Wheelchair accessible vehicles and converted cars
If you're buying, upgrading or accessorizing your disability car, read all about features for a converted car and wheelchair accessible vehicles (WAV). It's a big investment so you'll want to get it right. Give yourself the time to research and try before you buy.
Also check out our guide on disability converted cars (and WAVs) then read about assistive technology in Australia that makes a converted car or WAV as user-friendly as possible. Here's a list of several key items:
Besides doing a bit of research, it's also always very important to try before you buy and check the supplier can offer post-sale support. You'll also need to know where to source quality maintenance.
Besides researching assistive technology in Australia and buying the best mobility equipment and/or services, one of the greatest gifts to give is car insurance for wheelchair accessible vehicles and disability converted vehicles. It covers costs associated with vehicle damage or theft as well as assistive technology in the car.
Contact us today to get up to 25% discounted disability car insurance with a disability parking permit.
*at the time of writing